Romance on the High Seas Review – Ulaga Madayan is a Shameless Thief
Gun, knife, rope, the sea or the Annanagar Tower, take your pick, Kamal.
Folks, Kamal Haasan's Manmadhan Ambu has fared worse than Vijay's Sura, the colossus of nonsense, at the UK box office.
Bollywood Humgamma has put out the Manmadham Ambu U.K. box office numbers and, oh, they are shameful, pitiful and disgraceful.
This piece of junk should not have been released in theaters but should been reserved for friends and family of the clown.
For the five-day opening Christmas Weekend, Manmadhan Ambu could manage only a piffling £50,095 at the UK box office with an average gross of a mere £2,947.
Can it get any worse?
Un kannil neer vazhinthaal
en nenjil uthiram kottuthadi
Ha ha ha ha. Serves the idiot right for unleashing such trash on viewers.
Here, see for yourself in the below table how miserably Manmadhan Ambu has fared at the UK box office in the opening weekend compared to a few prominent Tamil movies: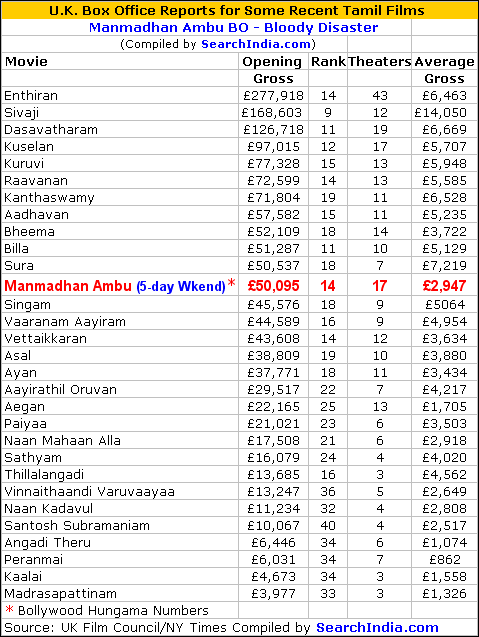 Related Stories:
Manmadhan Ambu Review – Ulaga Madayan Stumbles Badly