Shop till you drop.
As even the schmucks know by now, that's been the mantra in the consumerist Mecca a.k.a. America for decades.
And if there's one group of people who love a deal, it's Americans.
Every day, Americans use coupons for Tampons, Bread, Donuts, Beer, Razors, Diabetes Readers, Whiskey, Movie Tickets, Pizza, Haircuts, Wine, Coffee and countless other items.
If we search hard, we're sure to stumble on coupons for a well oiled Sandwich Massage by two buxom Chinese gals too. Just that we haven't looked hard. 😉
Now, a new form of deal madness has consumed the denizens of this shopaholic nation.
And at the epicenter of this new deal craziness is Groupon, the company Google tried to buy for $6 billion and was rebuffed.
Following Groupon's success popularity, there has been a host of me-too players like LivingSocial, ScoutMob, LocalTwist, Twongo, AmazonDeals et al.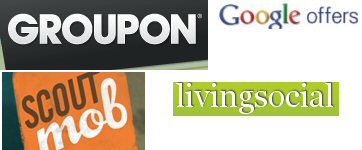 There's even an aggregator Monster Offers to combine all these daily deals in one convenient location.
Now, in its fatigued search for new frontiers to conquer Internet Goliath Google too has jumped into the fray.
Google Offers should debut in the not too distant future.
How It Works
Groupon, the Big Daddy of these new deal peddlers, sends out e-mail to subscribers highlighting a deal in a particular city.
If enough people sign up for the deal, it's on. Usually, the deal is for 50% off.
Groupon deals cover restaurants, dentists, and assorted stuff like skin laser treatment, private tennis lessons, game tickets, wine tasting, carpet cleaning, dry cleaning, magazine subscriptions, concerts, speed-reading classes, yoga et al.
Collective Buying Model
Underpinning the Groupon business model is collective buying.
Groupon negotiates discounts with local businesses and shares them with subscribers via free daily emails. Deals are activated only when a minimum number of people agree to buy, encouraging subscribers to share the promotion with friends and family. By guaranteeing a large number of new customers, Groupon has built a powerful new marketing vehicle for local merchants in multiple cities.
Groupon boasts that its innovative approach to e-commerce has delivered millions of dollars in new revenue to local merchants and saved over $1.5 billion for consumers.
Groupon and its peers ScoutMob, Amazon Deals and LivingSocial are also available on mobile devices like iPhone it convenient to access and sign up for these deals.
Can It Last?
The $64,000 question is whether Groupon and its clones can last.
Will American consumers have the same savings mentality if the economy improves. Groupon's biggest advantage, a fact that few talk about, is its fortuitous launch during a severe recession.
Also, is Groupon just the latest consumer fad in a nation where fads have been fashioned into high art.
After all, the business landscape of America is littered with the tombstones of startups whose fads were quickly abandoned by fickle consumers in search of a newer fad.
Remember, many of us were told in the late 1990s that online grocery stores like Webvan, Namaste and others of its ilk would make brick and mortar stores like Acme, Pathmark and Shoprite irrelevant only to see the online players bite the dust a few years later.
While the jury is out on the survival of the collective buying, Groupon's smaller rivals are unlikely to survive for long.
Also, will Google Offers make headway or will it be the Orkut vs Facebook deja vu all over again?
We're inclined to believe Google Offers will have a hard time standing up to Groupon since it's a latecomer to the game.
Plus, Groupon has smartly built its brand and quickly expanded to multiple countries in a short time.
Ultimately, Google may have to make another shot at acquiring Groupon or wave the white flag.
What about India?
Indians (living in India) are likely to hear of Groupon in the coming months.
After all, just a couple of weeks back Groupon announced the acquisition of SoSasta, an Indian deals facilitator operating in 11 cities.
Since we live too far from India, we're not sure if a Groupon-like model works well in India where customer-service issues, e-commerce and small business attitudes still have miles to go vis-a-vis the U.S.
Our Experience
Since desis are cheaper bastards than Americans, SI has obviously tried Groupon on a couple of occasions.
On both occasions, it was for a meal at an Indian restaurant.
If we remember right, both were for 50% off. The process went off smoothly on the buying end and later at the restaurant as well.
Now, if you schmucks'll excuse us we'd like to check out today's Groupon Deal in Philadelphia. 😉