This looks like one of those Only in America stories.
But one that Mohandas Gandhi would have approved of and eagerly embraced (more on that later).
We all know how crazy Americans are about their coupons.
They use it at restaurants and grocery stores, to buy dog and cat food, for manicures, pedicures, movie tickets, facials, Botox injections, facials, carpet cleaning, bowling, ice creams, yoga and dance classes, teeth whitening, car parking and oil change, waxing and even for hair removal (yes, all hair).
So, it's no surprise that Groupon, LivingSocial, Scoutmob and others of their ilk have now taken America by storm.
Whether the American obsession for coupons represents consumerism run amok or a desperate, legitimate run for a bargain every time, who's to say!
But even we, who think we've seen everything in life, were surprised to get an e-mail from LivingSocial yesterday pitching a $37 coupon (51% saving over the regular $75 fee) for Colon Hydrotherapy.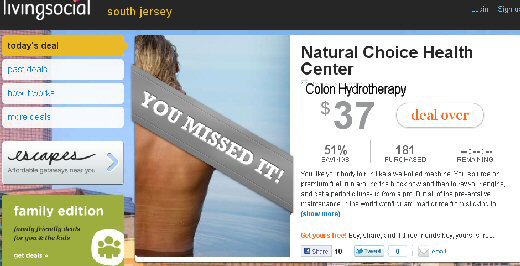 You wanna know more about Colon Hydrotherapy?
The business in New Jersey that offered the coupon (which, by the way, attracted 181 purchases) defines Colon Hydrotherapy thus:
Colon hydrotherapy is a gentle infusion of filtered warm water into the 5 feet of large intestine through the rectum. This process is one of the safest ways of cleansing the colon by the elimination of toxic wastes from the body. The technique is preformed by a certified colon hydrotherapist using sterile, disposable rectal tubes in a private and relaxing environment.
In plain English, we'd describe it as having water pumped up your ass!
Now, before you schmucks ask we haven't tried Colon Hydrotherapy.
No, we did not buy a coupon either.
Maybe, we should have purchased it and reviewed the experience here. That certainly would have been a first!
It's quite possible that having water pumped up the backside aka Colon Hydrotherapy might actually work wonders for your system or even ours. Might even make us more tolerant of you schmucks! 😉
If any of you tried have tried Colon Hydrotherapy, please do describe your experience for the benefit of your fellow readers. 😉
Coupons in India?
Do they offer coupons in India?
If they do, it'll probably be for stoning your neighbor's house, murdering your enemy or impersonating you in a difficult entrance exam. 😉
By the way, if Mohandas Gandhi were alive he'd certainly have purchased a coupon for Colon Hydrotherapy. Remember, Gandhi was a great votary of enemas, a first cousin of Colon Hydrotherapy.
Related Stories:
* Groupon, LivingSocial, Google Offers, ScoutMob, MonsterOffers – New Deal Madness Seizes America
* Colon Hydrotherapy on Wiki