The mucho awaited 2011 SI swimsuit issue is here.
(Schmucks, by SI we mean Sports Illustrated not your favorite blog SearchIndia.com.)
And as you can see below, folks, the wait is, yummmm, most definitely worth it.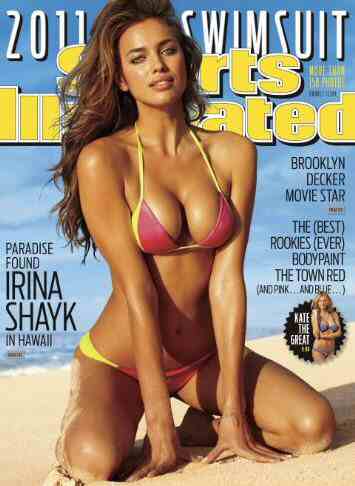 Irina Shayk is the first Russian model to grace the cover of Sports Illustrated popular annual swimsuit issue.
Pronounced eh-REE-nuh-sh-ake (as if anyone cares about such mundane things like pronunciation), the 25-year-old model hits the SI Swimsuit issue cover with nature's bountiful blessings.
A native of Yemanzhelinsk village (near Chelyabinsk), the brown-haired, green-eyed beauty makes her fifth appearance in Sports Illustrated Swimsuit issue but the first on the cover.
If you've got visions of you-know-what, tough luck because Irina is dating Cristiano Ronaldo, the Portuguese star of famed Spanish soccer club Real Madrid. 🙁
Shayk made her SI Swimsuit debut in 2007 and has appeared in every Swimsuit issue since. The stunning beauty's previous photo shoot locations have included Tucson (2007); St. Petersburg, Russia (2008); Naples, Italy (2009); Chile's Atacama Desert (2010); and Maui and the Philippines (both 2011).
If you are curious, Shayk's bathing suit in the 2011 cover photo was designed by Sauvage by Elizabeth Southwood and her bracelet was made by Los Angeles-based Ettika. Bjorn Iooss shot this year's cover.
Former SI Swimsuit cover models include Kathy Ireland, Christie Brinkley, Cheryl Tiegs, Heidi Klum, Elle MacPherson, Tyra Banks, Petra Nemcova, Marisa Miller and Brooklyn Decker.
Sports Illustrated boasts that its Swimsuit issue is a powerhouse media franchise that reaches over 60 million people annually and more men 18 to 34 than the Super Bowl.