If it were human, Indian software services provider Infosys would be feeling a sharp pain in its back-side today.
For the New York Times has thoroughly buggered India's software darling in a critical piece posted on its home page.
The NYT story says that Infosys is:
facing an expanding federal investigation prompted by claims from an American whistle-blower that it misused short-term visitors' visas to bring in low-cost workers from India.
Citing a lawsuit alleging Visa malpractices engaged in by Infosys, the NYT story paints a dark picture of the company that has brought so much misery to U.S. programmers by importing Indian software coolies on H1B and other Visas.
Infosys Project Manager Jack 'Jay' Palmer filed the lawsuit after his internal efforts to resolve his concerns went nowhere.
Infosys is also one of the largest users of H1B Visas, which lets foreign workers with specialized skills work in the U.S. for a few years.
But as the U.S. unemployment picture worsened, the American authorities started clamping down via number of methods including reduction in Visas and strict examination of documents.
At the crux of Jack Palmer's lawsuit is the allegation that Infosys then illegally got workers into the U.S. on B1 Visas, which are non-work Visas, and illegally put them to work here at client sites.
Here's an excerpt from the lawsuit:
In March of 2010, Plaintiff was invited to Bangalore, India for planning meetings. During one of the meetings, Infosys management discussed the need to, and ways to, "creatively" get around the H-1B limitations and process and to work the system in order to increase profits and the value of Infosys' stock. The decision was made by management to start using the B-1 visa program to get around the H-1B restrictions.
If, a big If, Infosys indeed did what it is being accused of, then it'd be a major violation of American immigration laws.
The New York Times' story says:
Aside from Mr. Palmer, at least two other Infosys managers in the United States have submitted internal whistle-blower reports pointing to Indians on business visitor visas who were performing longer-term work not authorized under those visas, according to internal documents and current Infosys managers.
Infosys has denied the allegations in Palmer's lawsuit.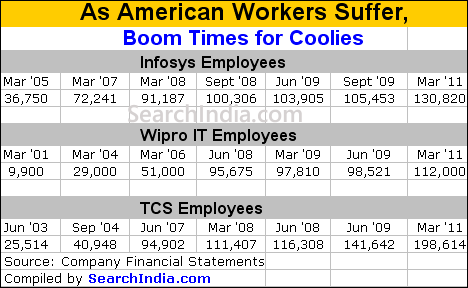 Infosys – A History of Dirty Practices
Notwithstanding its sterling reputation with the unwashed masses, Infosys has never been an exemplar of probity.
Those familiar with the early years of the company will remember how the company raised money under false pretenses.
In its IPO filing with the stock exchanges in the mid-1990s, Infosys said it'd use the money to buy a mainframe computer and build housing for employees. Neither of which was done by the company, at least in the initial years after the Indian public offering. IBM employees in India who tried to get Infosys to buy their mainframe were frustrated over Infosys' indifference despite their public posturing.
Subsequently, some top senior Infosys officers were guilty of leaking highly sensitive company information to the media before they were discussed by the board or made public through proper channels. Infosys was lucky that the Indian stock exchanges were lax and did not care to investigate the company for such illegal disclosures.
A few years back, Infosys got into serious trouble with the California Labor Department for screwing employees over overtime salary. A worried Infosys quickly settled by paying $26 million, the majority of which went to the affected employees.
Given the uncertainty of litigation outcomes, what are the odds that Infosys will settle this immigration nightmare by paying a hefty fine?
Watch this space!
Related Content:
Lawsuit filed by Jack Palmer
Indian Company Under Scrutiny Over U.S. Visas
What California Laws did Infosys Violate