Just leave your not wanted here hope your journey brings you death stupid American (sic)

– Death threat found on Infosys whistleblower Jay Palmer's work desktop computer in 2011 after he filed a suit against the Indian software outsourcing company
Ha, ha, ha!
The "stupid American" Jay Palmer is having the last laugh today, at Indian software outsourcing crook Infosys' expense.
Jay Palmer's claim to fame is his lawsuit in 2011 alleging retaliation from Infosys after exposing irregularities in the company's use of B1 Visas.
Media reports say Infosys has reached an agreement with federal prosecutors in Texas over the B1 Visa violation charges and will pay a record fine of $35 million.
Although Palmer lost the battle in an Alabama court last year on the retaliation and harassment case, he has won the war and a hefty payment rumored to be around $5 million that will come from Infosys' $35 million settlement with federal prosecutors.
Case Background
Infosys willfully brought employees on B1 Visa and had them work at client sites in the U.S.
It is illegal to work on a B1 Visa, which is meant for short-term business visits and training.
By bringing Indian workers to the U.S. under false pretenses, Infosys engaged in gross illegal behavior and caused severe harm to American workers.
Also, getting a B1 Visa is easier compared to the rigorous procedures involved in obtaining a H1B Visa.
How Infosys Crooks Committed Fraud
Infosys coached employees via "Dos" and "Donts" on how to fool U.S. immigration officials.
Take a look below at Infosys' incriminating document (source: U.S. Court filings):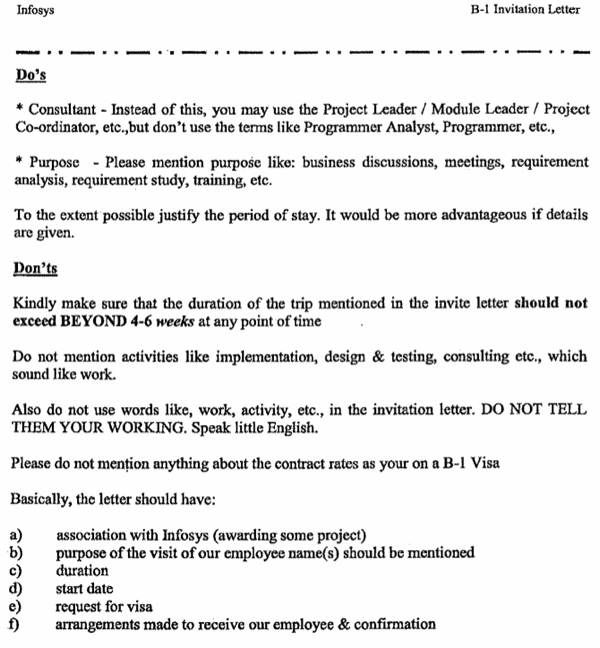 I have attached a bunch of U.S. court documents at the bottom of this post that when considered together reveal how Infosys committed fraud – Illegal invitation letters, fraudulent B1 Visas and work at client sites in U.S.
This is not the first time Infosys has run into trouble with its U.S. employees. The company settled a dispute involving overtime payment with the California Labor Department in January 2008 by making a $26 million payment.
By the way, as I was poring over some old issues of the New York Times I found the below quote by an Infosys spokesman:
This is a company built on core values that include leadership by example, integrity and transparency. Those values always have and will continue to shape the way we do business with our clients and, without exception, the way we treat our people.
I haven't stopped laughing! 😉