Crimedy, yeah.
No comprende?
How would you, schmuck?
That's a portmanteau word, a combination of a crime and comedy.
A neologism we thought of, moments ago.
Well, before the earthquake hit us yesterday the mail carrier brought us The Last Godfather DVD from Netflix.
Given our new-found love for Korean films, it's no surprise we picked up The Last Godfather.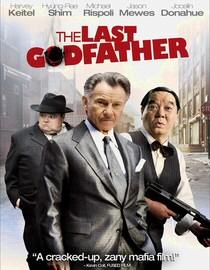 After all, it's directed by South Korean comedian and filmmaker Hyung-rae Shim, who also has a key role in this movie.
But The Last Godfather is an English language film unlike the other Korean films we've seen lately.
At least, the version we saw.
When an aging Mafia gangster Don Carini decides to appoint a successor, he doesn't name one of his close associates to the top job.
Instead, he brings in a strange Korean character Younggu (played by director Hyung-rae Shim).
Younggu is his illegitimate son from a liaison with his Korean girlfriend when Carini was on the run from his rivals.
The fun starts as Younggu, who is short, fat, oafish and looks very old, is inducted into the Carini Mafia clan of his father.
Not only does Younggu stumble and fumble at the easiest of tasks to the great irritation of Don Carini's lieutenants but he also falls in love with the enemy, Mafia chief Don Bonafante's daughter Nancy.
Stupid as Younggu may look and stupid as Younggu may act, he's also compassionate, sensitive and occasionally even smart, albeit unwittingly.
Harvey Keitel as Don Carini and Hyung-rae Shim as Younggu deliver strong performances as do the gangster's underlings and sidekicks.
For us, The Last Godfather turned out to be a different kind of Korean movie from what we'd been used to.
The ones we'd seen previously were all dark and brutally violent. And that's the genre where we think Korean film-makers have made their mark in recent years.
It's nice to know Korean movie-makers can see the lighter side of life too while at the same time tapping into the public fascination with Mafia and gangster lore.
By the way, The Last Godfather is also available at RedBox but we couldn't one in any of the nearby kiosks.
Related Posts:
Damn, these Korean Guys Make Great Crime Movies
I Saw the Devil Review – Bloody Violent Korean Gem
Housemaid, Cedar Rapids – Above Average Films