Chutiyas, it's Viki with a V.
Not Wiki, comprende?
I don't want to see any asinine comments about how you speed-reading gaandus logged on to Wiki and couldn't stream any free foreign movies! 😉
A short while ago, fortified with a tall glass of cheap Chilean wine (Corbett Canyon Cabernet Sauvignon, $8.99) I sat down to watch my first free foreign movie on the legal streaming site Viki.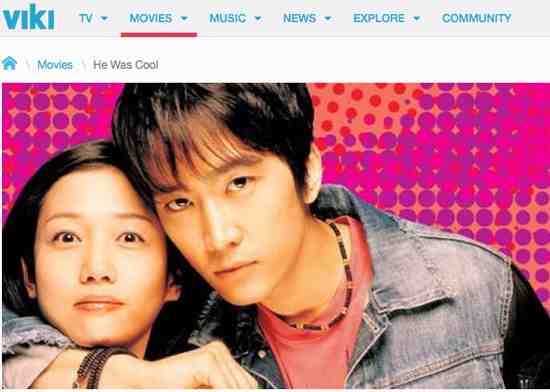 My Free Movie
Just in case you're curious, my pick was the 2004 Korean romantic comedy Geunomeun meoshiteotda a.k.a. He was Cool.
No surprise, given my fondness for Korean films.
A teen romance involving two high-school kids, He was Cool features good acting, a fast-paced narrative and decent photography.
Just the kind of films today's restless teenagers with raging hormones love.
Directed by Lee Hwan-Kyung, the film's lead actors are Song Seung-Heon and Jung Da-bin.
While the movie is no classic, it's not a bad way to spend 110-minutes on a hot afternoon if you're partial to Korean flicks.
Soon after watching He was Cool, I learned with sadness that the film's young heroine Jung Da-bin died in 2007.
Apparently, by her own hand.
Seems the girl was suffering from depression and hung herself in the shower!
Jung Da-bin was 27 at the time of her death.
Such is life, brief interludes of happiness amid long stretches of woe!
Viki Video Player Update
A well-funded startup with financing from Andreessen Horwitz, Greylock and Charles River Ventures , Viki has recently updated its video player.
Since I have never tried the older version of the player, I can't tell you how much of an improvement Viki Video Player 2.0 is.
But what I can tell you is that the film I watched this afternoon played smoothly without any buffering hiccups. Absolutely no issues.
There are recommendations below the video player when the movie is playing. If you are watching in full screen, you obviously don't get recommendations.
You can change the subtitle language via a drop-down box in the top of the video player.
The interesting thing about subtitles for foreign movies on Viki is that they're all done by volunteers.
So for many movies, you end up with far more subtitle options than is possible on a DVD or a Netflix/Hulu streaming film where English is often the sole option.
The Viki video player update also includes 'social' features like letting you know what your friends are watching.
Offerings
Besides free movies, Viki also offers TV shows, music and news a.k.a. gossip snippets about movie stars
There are a few Bollywood movies on Viki, but not many. I'm not complaining considering the few on the site are not exactly masterpieces (horror examples, Love Story 2050, Perfect Mismatch)
While I have not tallied the languages of all movies available on Viki, I suspect the site includes far more Asian films (Korean, Chinese, Japanese, Indonesian etc) than European.
Given that the world is peopled mostly with idiots, there are several bonobos in the blogosphere referring to Viki as Hulu for foreign movies.
That is absolute nonsense since Hulu/Hulu Plus already includes plenty of foreign films, particularly in their Criterion collection where you can watch films by master directors like Akira Kurosawa, Francois Truffaut, Ingmar Bergman etc. Hulu occasionally makes those classic movies in the Criterion collection available for free viewing to everybody.
One of the biggest pluses of Viki is that it's available in more countries than leading streaming services like Netflix, Hulu and Amazon Prime.
Hulu is available only in U.S. and Japan; Netflix Instant is restricted only to viewers in the U.S.,  Canada and UK.; and Amazon Prime streaming is offered only to U.S. residents.
Viki Minuses
As with anything free in the world, you get what you pay for.
Don't expect to see new stuff on Viki.
Overall, the collection is not as rich as subscribers to Netflix or Amazon Prime are accustomed to. But then Netflix and Amazon Prime are not free.
A big disadvantage with Viki is the absence of integration with devices like Roku or Xbox that allow you to stream movies and TV shows directly to your big-screen TV.
So unless you have a big-screen computer like iMac, you'll have to be content watching Viki on a small-screen laptop or desktop. Not a great movie-watching experience in my opinion.
Viki announced via tweet on March 5, 2013 that it plans on integrating with Roku but I have no clue when that will happen.
Au contraire, Hulu, Roku and Amazon Prime have formed partnerships with Roku and other set-top vendors to let you stream movies directly to the TV.
Then there's the small selection of Indian movies. While hardcore Bollywood fans are bound to be disappointed with Viki, I consider the slim pickings a blessing in disguise.
Embedding of Viki videos on third party sites like SI does not work properly. When I tried to embed He was Cool on SI, the embedded video got compressed in size. Not cool!
As I said earlier, there are always hard compromises with 'Free' stuff.
Bottom Line
I have no idea how Viki makes money.
There were no ads for my Korean movie.
Presumably, there will soon be ads if the service is to survive and if the company's venture capitalist backers are to get a return on their investment.
Since I currently subscribe to Netflix DVD and Hulu Plus, it's unlikely you'll find me lingering a lot on Viki.
But if you do not have access to Netflix, Amazon Prime or Hulu in your country or if you are one of those countless cheap desi bastards, I would advise you to check out Viki.