We have developed a robust appetite for Korean films and, by God, we're gorging on them.
The other day, in a first, we watched an entire Korean movie on the iPad, streaming it off Netflix.
Since it was late night, we used our iPhone headset.
The overall picture quality via WiFi streaming was divine on the iPad 2. Not a single hiccup.
For the life of us, we can't imagine streaming and enjoying a full-length movie on any of the chutiya Android tablets like Kindle Fire or Samsung Galaxy.
The Korean movie we streamed was a gangster film Righteous Ties (2006).
Directed by Jang Jin, the film has Jeong Jae-yeong playing Chi-sung, a mobster's Right-Hand Man. We suppose, in Hollywood they'd call such people the Capo or capo bastone.
Jeong Jae-yeong is not new to us or the SI blog habitues.
We watched Jeong recently in the 2007 film Going by the Book where he played the straight-arrow cop Jeong Do-man. By the way, Going by the Book is also directed by Jang Jin.
Jung Jun-ho plays Chi-sung's close friend Joo-joong, also a member of the same mob group.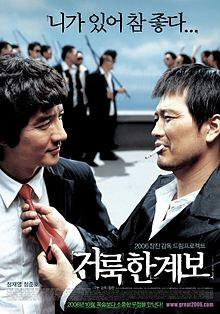 Righteous Ties Theater Poster
(Source: Wiki)
A Revenge Tale
The central theme of Righteous Ties is revenge.
Despite the prosecutor's suggestion to rat out his boss, Chi-sung, the chief underling of his mob boss, refuses to do so and goes to prison for seven years.
But the mobster does not have the same loyalty to his henchman and to fulfill a separate deal tries to have Chi-sung killed in prison.
Chi-sung's fury is aroused and soon he escapes from prison setting in motion a bloody carnage that continues till the last minute of the movie.
One of the interesting things about Korean crime films (do they make any other stuff?) is how well they integrate comedy into all the blood and gore.
Not an easy task but they manage to pull it off thanks to the writing.
Righeous Ties is not in the same league as some of the other Korean films like I Saw the Devil, Chaser, Yellow Sea, that we've watched over the last few months.
The principal problem with the movie is the story basically starts to fall apart after Chi-sung goes to prison.
The attempts to break out of jail and some of the events after that are treated in too amateurish a manner because of the sloppy writing.
Its sloppy aspects aside, Righteous Ties is still a watchable movie for the action and the fine acting by Jeong Jae-yeong and Jung Joon-ho.
SearchIndia.com recommends Righteous Ties but don't set your expectations too high for this one. Yes, Righteous Ties comes with English subtitles.
Related Posts:
Korean Films Reviewed by SearchIndia.com