No, you schmucks are not the only ones reading, and more importantly benefiting from, the nonpareil SI blog.
Y'all can pat your collective backs today that you're in august company.
Obviously, Amazon CEO Jeff Bezos is an avid reader of the SI blog because in August we recommended that the upcoming Kindle Tablet must be priced between $200-$250 if it intends to be a viable player in a market lorded over by the iPad.
This is what SI wrote on August 1, 2011:
With most consumers strongly fixated on the iPad, we don't see how Amazon can gain quick traction unless it launches an entry-level 16GB model at $200-$250, a significantly lower price point compared to Apple's $499 price for the 16GB iPad 2.
And as we all know by now, Bezos followed our sage counsel – Amazon came in at the low end of our suggested price, i.e. $199 for its Kindle Fire tablet launched today.
It's heartening to note that good advice does not always fall on deaf ears. 😉
But it's a bit disappointing that the Kindle Fire offers only 8GB storage instead of our recommended 16GB but Amazon is offering unlimited Cloud Storage.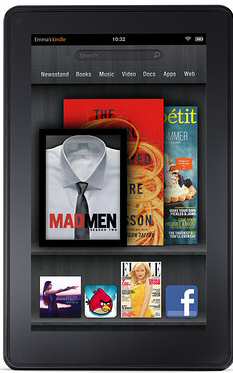 Kindle Fire ships on November 15.
By the way, you can pre-order the Kindle Fire tablet on Amazon's web site now.
Related Posts:
Amazon Guns for iPad with $199 Kindle Fire Tablet
Ha Ha Ha, ROFL; Amazon Will Sell 5m Tablets in Q4, Predicts Forrester
Can Amazon Lift the Sinking Android Tablets?