Holy Cow!
Since its launch on Friday, March 16, 2012, Apple has sold three million units of the new iPad tablet.
Isn't that Revolutionary Sales for a Resolutionary Tablet!
Apple's Senior VP of marketing Philip Schiller boasted it was "the strongest iPad launch yet."
The new iPad is the third iteration of the popular tablet.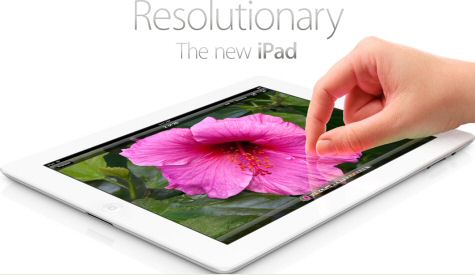 Pricing for the new iPad starts at $499 for the 16GB WiFi only model (same as for the iPad 2).
The new iPad is currently available in the US, Australia, Canada, France, Germany, Hong Kong, Japan, Puerto Rico, Singapore, Switzerland, UK and the US Virgin Islands.
It will be offered in 24 more countries starting at 8AM on Friday, March 23 through the Apple Online Store.
No word on a launch date for India.
Not Surprising
We should have guessed that Apple's new iPad was going to be a blockbuster.
On Sunday afternoon, we were at Best Buy (a U.S. consumer electronics chain) to check out the new iPad and other electronic gadgets.
We had to wait several minutes to go near the new iPad on display.
First, there was a young kid engrossed with the device. It looked like he was playing some game.
His mother had to tear him away from the device. And he was not pleased one bit to move away from the tablet.
Then, there was an elderly couple who looked like they were buying their first iPad. They came to buy and spent a few minutes playing with it. We heard them discussing the various models with a Best Buy sales guy.
Finally, we got our chance to play with the new iPad just as an African-American was hovering near the display.
We didn't think the upgrade features (Retina Display, better camera etc) were enough for us to ditch our iPad 2 and get the new iPad.
No, certainly not.
Since there was an iPad 2 adjacent to it, we logged on to CNN.com on both to check out the difference in display.
Yes, there's a difference (new iPad is obviously better) but not a big difference.
By the way, there was not a single soul near the other tablets – Kindle Fire, Acer, Blackberry etc.
Not one person.
Wonder if all of them combined sold three million tablets in the last quarter?
Related Posts:
New iPad – What's New?