For the next couple of days, y'all are going to be bombarded with articles on Amazon's new Kindle Fire tablet.
The 7-inch Android-based tablet is already in the hands of consumers and early reviews are kind of mixed with some not impressed with its Silk browser.
The below chart from Indian market researcher Social Nuggets is SI's contribution to the Kindle Fire media overkill.
Based on its analysis of intent to purchase data from social networks, Social Nuggets sees Kindle Fire taking away market share from all tablets with the impact on Android and other non-iPad Tablets projected to be significant.
"Amazon has the potential to make it a two way Tablet race between Kindle Fire and iPad if it delivers on all its promise," say the number crunchers at Social Nuggets.
No, we have no intention of buying the Kindle Fire, perfectly happy as we are with our iPad 2.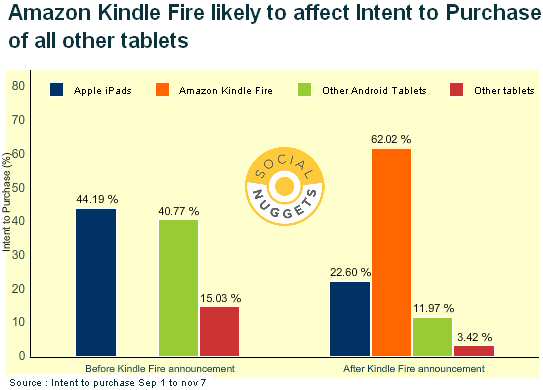 Related Stories:
Amazon Guns for iPad with $199 Kindle Fire Tablet