Five years back today, i.e. January 9, 2007, smartphone history was made with the launch of the iPhone.
Launching what subsequently became the world's favorite smartphone at the 2007 Macworld, Apple co-founder and then CEO, the late Steve Jobs said:
iPhone is a revolutionary and magical product that is literally five years ahead of any other mobile phone. We are all born with the ultimate pointing device—our fingers—and iPhone uses them to create the most revolutionary user interface since the mouse.
Truer words were never spoken as the wild success of the iPhone attests.
Although the first-generation iPhone was unveiled in January 2007, it started shipping only on June 29 of that year.
We went to New York City on the morning of June 28, 2007, about 36 hours before the launch of the iPhone, to check out the action. And there was already a long line of Apple fans outside the company's 5th Ave. store (see picture below) along with media representatives from several countries.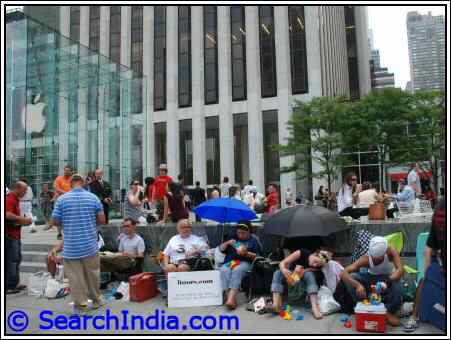 June 28, 2007 – Eager Fans Lined Up to Buy the First
Generation iPhone at Apple's 5th Ave Store in NYC
Fast forward five years to 2012.
Five iterations of the iPhone have rolled out so far, each one a stupendous success.
Tens of millions of iPhones have been sold over the last five years and in survey after survey users have given the iPhone higher scores over all other smartphone platforms including Android, RIM and Windows.
The current generation iPhone 4S debuted a few months back with the new Siri personal voice assistant feature.
iPhone – Good Times Continue
The naysayers can say what they will but the good times will continue to roll for the Apple iPhone.
A survey of 4,000 American consumers found iPhone owners were far more satisfied with their mobile phones than owners of any other smartphone.
Samsung and HTC tied for the second place.
Even querulous people like us who tend to find fault with everything are mostly satisfied with our previous generation iPhone, i.e. iPhone 4.
Hey, it's just not the past we're talking about here.
Potential smartphone customers too seem more inclined to buy the iPhone than any other device.