Update: Dhaba Reopens After Fresh Inspection
Bollywood villain Shiva Natarajan must be writhing, groaning and moaning in shame after the New York City Health Department closed his unhygienic shithole Dhaba Indian restaurant on 108 Lexington Avenue following an inspection on April 3, 2012.
After all, closing a restaurant is a drastic step that the NYC Health Dept takes only under conditions of serious hygiene violations.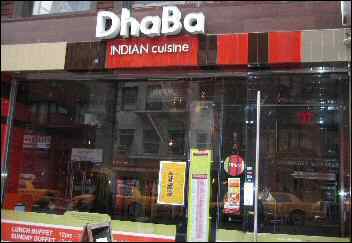 Unhygienic Dump Dhaba Closed by NYC Health Dept
Dhaba NYC – Filthy
Live roaches, evidence of mice/live mice, inadequate personal cleanliness are only a few of the critical violations unearthed by the NYC Health Department in its recent inspection of Dhaba Indian restaurant on Lexington Ave in New York City.
Dhaba scored a horrible 77 violations in the inspection, a figure that must surely be causing palpitations in diners who visited the restaurant in recent weeks.
It's only a cruel, callous, villainous owner who maintains such poor hygiene in his restaurant knowing fully well the potential harmful consequences on diners (Dhaba has failed the NYC Health Dept inspection on multiple occasions in the past).
Here are a few of the critical violations unearthed at Shiva Natarajan's Dhaba (marked in Red by NYC Health Department) in the April 3, 2012 inspection:
* Live roaches present in facility's food and/or non-food areas.
* Evidence of mice or live mice present in facility's food and/or non-food areas.
* Food not protected from potential source of contamination during storage, preparation, transportation, display or service.
* Raw, cooked or prepared food is adulterated, contaminated, cross-contaminated, or not discarded in accordance with HACCP plan.
* Personal cleanliness inadequate. Outer garment soiled with possible contaminant. Effective hair restraint not worn in an area where food is prepared.
Time and again Dhaba has fared miserably in the NYC Health Department inspections.
On multiple occasions, we have brought up the issue of poor hygiene at Dhaba with its garrulous owner Shiva Natarajan.
And the man blames everyone (landlords, garbage pickup schedules, the city etc) but himself.
On one occasion, he even threatened to unleash his lawyers on us.
Maybe, it's time the bozo looked up the word introspection in the dictionary.
In the meantime, our sympathies are with Dhaba's hapless diners and hope they stay healthy.
Update: The NYC Health Department has authorized the reopening of Dhaba following a new inspection in which the restaurant scored 2 violation points.