By Naveen
Based on past experience, watching Tamil star Ajith's movies require lots of tolerance and very limited cognitive skills. The latter is available in abundance among Tamil movie fans.
I was greeted with unusually empty roads all the way to the theater and even more surprised to see no lines at all!
Was it the unusual heat wave? Was it the result of a sudden enlightenment among Ajith fans?
Billa II – Poor Response
After hogging on a plate of soggy Bhelpuri and quaffing an insufficiently chilled bottle of Thums Up at a nearby chaat shop when I returned to the Big Cinemas theater in Chicago there was still no crowd.
But a few people trickled in and the movie started with probably 25% of the seats occupied – which is a big disaster compared to the large crowds I witnessed on the first day of Mankatha, Ajith's last film.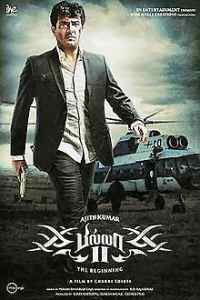 A  Non- Story
Ajith Kumar starrer Billa II is Chakri Toleti's second movie as Director.
Toleti's first directorial attempt was the Kamal – Mohanlal starrer Unnaipol Oruvan.
The others in the Billa II cast include Parvathy Omanakuttan, Bruna Abdullah and a bunch of folks whose name I don't remember/know.
Billa II is a prequel to Ajith's Billa which was a remake of Rajinikanth's 1980 film Billa which was a remake of Amitabh Bachchan's Don which was remade as Shah Rukh Khan's Don that was followed by a sequel called Don 2.
In a nation of a billion people where 100s of films are made every year such is the paucity of new stories and ideas.
Billa II traces David Billa's rise from a nobody to a dreaded don.
At a young age, David Billa and his sister are orphaned during the ethnic war between Tamils and Sinhalas in Sri Lanka.
Billa's sister moves to Madras but Billa remains in Sri Lanka.
The impact of the war and his parents' death makes Billa take to the path of crime. He comes to Tamil Nadu as a refugee and rises in stature as a criminal and at the end he leaves for Malaysia after killing all his rivals and enemies. A co-refugee, Ranjith is Billa's man-Friday.
That is the story of Billa II.
Billa's ascendance to the top rank of criminals is by working with different criminals at various levels and killing a lot of people.
This threadbare story is stretched for a little over two hours by having fight sequence every 10 minutes where a bunch of people are killed by Billa.
In between these fight sequences are slow motions and some songs to mask the lack of a plot.
The length is helped by adding Jasmine, who is Billa's sister's daughter.
Jasmine loves Billa, while Billa is busy screwing his ex-boss Abbasi's girlfriend Sameera after bumping him off. Room potu yosichi yezhudhina story idhu. 😉
Billa 2 – Problems Galore
Given the repeated rehashing of Billa/Don by Indian filmmakers, I didn't have much expectations from Billa II.
But I was willing to give concessions on logic and reason since Billa II is supposedly an action thriller.
However, the weak story, lack of credible performances and hare-brained execution resulted in considerable hair-loss and grief to the poor, hapless audience who were suckered in by an above average trailer.
The problems with Billa II are aplenty. The core issues are:
* A movie like Billa II which purports to show the rise of a criminal should have some emotional quotient and character building. In the absence of a coherent story, the Billa character finds no sympathy / connection with the audience.
* There is no justification given for why Billa chooses the path of crime. For a man who is a victim of war and atrocities, arms / drug smuggling seems like an odd career choice!
* The sub-plot of Billa's sister and her daughter Jasmine (Omanakuttan) has absolutely no value except to extend the movie run time. Same is the case with the Sameera character.
* The main villain Dimitri is supposed to be from one of the former Soviet countries but the role is played by an Indian actor (Vidyut Jamwal)!
* It does not matter how many times Billa gets stabbed / shot. Nothing ever happens to him!
* The action scenes were very ordinary and the special effects scratchy at best.
* Jasmine is in love with her "Mama" Billa (kudos to Mr. Toleti for making the dreaded don a Mama! 😉 Only unique minds can come up with such fresh ideas! ). But she happily flirts with a politician's son, such is her love for Billa.
Poor Acting
Ajith gives his usual performance which requires a lot of camera work to make it seem as if he is emoting.
And it continues to be unbearable to the paying audience!
Parvathy Omanakuttan's screen presence was so impactful that I was left scratching my head on who is Omanakuttan. I have not seen her in a movie or a photo before so it took me the better part of the 2 hours to figure out Jasmine and not Sameera was Ms. Omanakuttan. Such is her screen presence that every time she came on the screen the audience laughed at her every move and dialogue. Her most profound moments in the movie are: – calling Billa as "Mama", enthusiasm for ice cream and running in loose slow motion in the Goa beaches. When her character's throat is slit in the film the audience rejoiced and chapped!
Tamil cinema has enough pulsating pimples. Did we really need another imported one??
Bruna Abdullah tries to look alluring but she neither has the body nor the attitude to make that work. Her sole contribution to Billa II is to walk around half naked all the time and sadly it is not worth watching. 🙁
Lacklustre Music
The blot-in-his-dad's life, Yuvan Shankar Raja delivers rotten music and bad songs.
Not a single memorable number.
Recommendation – Stay Away
Chakri Toleti does himself no favors by churning out this masterpiece of baloney.
Not every new director gets to work with the big-wigs of the industry so early in their career. Mr. Toleti wastes that advantage like fart in the wind.
Billa II reminds me of portions of Mani Rathnam's Nayakan (initial scenes) and ending of Ram Gopal Varma's Sarkar but lacks the finesse and quality of either.
Bottom line, the Billa II visual puke is meant only for hardcore Ajith fans.
Stay away and avoid the mental agony.
The only tolerable aspect about the movie is its edited length of just over 2 hrs instead of the usual 3 hrs.
N.B. – Comment from one person in the theater = "… Saadharnama kodumai paduthanumna Vijay padathikku dhaan kutittu poven. Ore mayakam irukku. Thala thollai Thaangalai".
Related Stories:
Billa 2 UK BO Report – Disaster, Worse than Kuruvi, Mankatha etc
Ajith's Billa 2 Opens to Poor Reviews
Rajni's Second Folly in Life – Blessing Ajith's Billa