By Naveen
English Vinglish (2012)
Story, Screenplay, Direction: Gauri Shinde
Cast: Sridevi, Mehdi Nebbou, Priya Anand, Adil Hussain
From the Bollywood cesspool emerges another hideous junk called English Ving…
What??
Oh No! Wait a second. That is how I habitually start the reviews of Indian films.
But every once in a while there comes a film that makes your eat your words of skepticism and leaves you with pure joy.
Eros International's "English Vinglish" *ing Sridevi belongs to the category of rare good movies from Bollywood.
I went to the theater expecting the movie to open to empty seats but on the contrary there was a long line of people waiting to make their way into the hall.
Sridevi, returning to the screen after 15 years was able to draw more audience in US than Kamal Haasan or Akshay Kumar in recent times.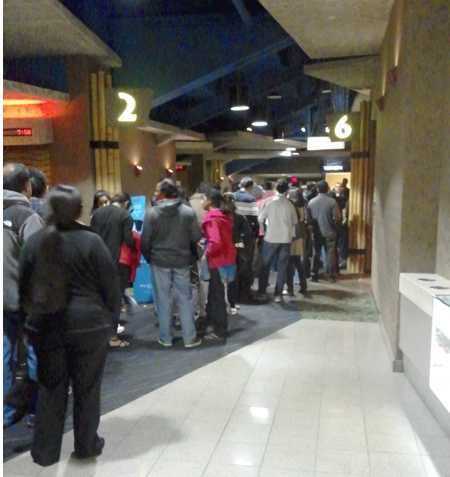 Indian-Americans Waiting to See English Vinglish in Chicago
Story
English Vinglish is an underdog story. It is the story of an under-appreciated, taken for granted Maharashtrian home maker, Shashi (Sridevi), who has trouble with the English language.
Although Shashi is happily married to Sathish (Adil Hussain) and has a teenage daughter and a son, her lack of English language skills makes her an object of ridicule within her family and a source of embarrassment for her daughter Sapna.
No matter how hard Shashi tries her efforts are often trivialized and insulted consciously or otherwise by her husband and daughter.
Shashi goes to New York for a few weeks to help her elder sister prepare for her niece's wedding. More bad experiences due to her language problem prompts her to secretly join a four-week English language course.
The rest of the movie is about how she regains self-confidence and gets the respect she deserves.
What works well…
Simplicity!
Nothing works better than a simple story told in an entertaining manner. The story here also works in multiple layers.
Kudos to first time director Gauri Shinde for doing a fantastic job of subtly exposing what kind of jerks the typical Indian men are in the patriarchal society.
Gauri also lays bare the hypocrisy and hollowness of the Indian mindset with regard to blind acceptance of English superiority and this is the central subtext of the movie.
Gauri Shinde takes credit for the story and screenplay.
I give Gauri credit for doing one hell of a fine job!
Believable!
Often movies that start well meander aimlessly to unrealistic conclusions. Gimmicks and shock values are compulsively added to conceal the lack of a plot. However, Gauri is not about succumb to such manly mistakes.
The movie tells a serious and real story that a vast majority of Indian women (and non-Indian) have gone through for centuries and continue to go through. But, it never gets preachy or melodramatic and instead takes a humorous and realistic path.
If you are an Indian male then Shashi will reminds you of your Grandmother / Mother / Wife and Sathish should remind you of your Grandfather / Father / Yourself!
Characters and Performance!
I was never a big fan of Sridevi.
I didn't miss Her Royal Thighness for 15 years when she was busy making babies with Boney Kapoor and playing Mom instead of acting.
The lady has now returned with a vengeance and given one of her best and most mature performances ever. Her age doesn't show but her experience does. This role was made for Sridevi and it is her performance along with the craft of Gauri Shinde that makes this film a winner.
A fine ensemble of memorable characters form the "Mind your Language" type hilarious classroom sequences. Among those is Laurent, played by French actor Mehdi Nebbou, who is besotted with Shashi. He has an arresting screen presence and does a decent job of a hopeless romantic. Even characters who have only a few minutes of screen time and hardly any dialogues make an impression.
Priya Anand plays Radha, Shashi's other niece and constant companion. She is a good looking actress with class and appeal.
Amitabh Bachchan makes a special appearance as Shashi's co-traveler to New York and makes an impact in two scenes that his junior has not made in his entire career.
Thanks goodness I didn't watch the Tamil version which has the ultimate thalaivali Ajith Kumar instead of Amitabh.
Music!
Amit Trivedi's music is pleasant but not memorable.
It goes well with the movie but I doubt if any of the songs are chartbusters.
But I would take this any day over the cacophony in most movies.
What sucked…
The day when movies become perfect I will tonsure my head completely and tattoo Priyanka Chopra's face on it. Thankfully that day will never come. 😉
Ø Why stereotype gay characters? Although the portrayal is not undignified the role was unwarranted.
Ø The whole Laurent love segment was in my opinion stretched a little too long. Was Gauri not sure how to end it?
Ø Sridevi may have spent the best of her last three decades in Mumbai but her accent betrays her South Indian roots. She could have played a Tamil instead of a Maharashtrian and it would still be the same.
Recommendation
Go for it!
I strongly recommend English Vinglish for your entire family.
The movie is clean and entertaining for all age groups
If not anything it would at least be a redemption for your past sins of watching Ek Tha Tiger, Billa II, Joker and other such vile garbage.
Related Stories:
English Vinglish gets Thunderous Box Office Response