Telugu bidda Raghunandan Yandamuri, who is charged with the murders of 10-month-old Saanvi Venna and her 61-year-old grandmother Satyavathi Venna, has been led into a Montgomery County, PA court for the preliminary hearing.
The 26-year-old software programmer from the South Indian state of Andhra Pradesh, who's been in the Montgomery County prison since his arrest on October 26, 2012, now sports a beard.
Raghunandan Yandamuri was led into the Bridgeport court under tight security suggesting the police have fears there might be an attack on him.
Raghu was surrounded by police officers, front, back and side as he was led into the Bridgeport court.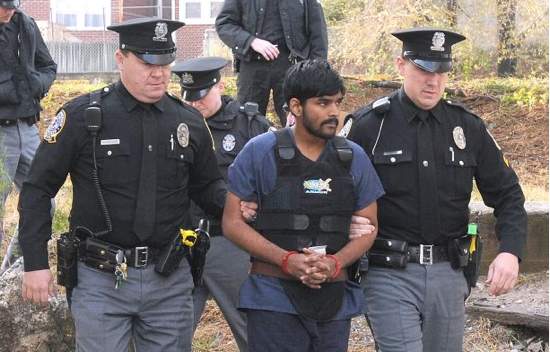 (Photo Courtesy: Times Herald)
Raghu Wears Bullet-Proof Vest
In the picture, Raghunandan is seen wearing a bullet-proof vest and handcuffs.
Making Raghu wear a bullet-proof vest is a good move by the Bridgeport police.
With emotions running high against Raghu Yandamuri, you never know what a crazy whacko might do.
It's most likely the first time an Indian has been led into an American court wearing a bullet-proof vest.
Cold Day in Bridgeport
It's a cold day in Bridgeport, PA where the Montgomery court room of District Magisterial Judge James P.Gallagher is located.
The temperature around 9:30AM was 2°C (36°F).
Raghu must have felt the chill biting into his skin as he was led into the court wearing a half-sleeves shirt.
Raghunandan Yandamuri will be brought before Judge Gallagher for the preliminary hearing starting at 9:30AM Eastern Time.
Since Raghunandan lacks the money to hire a private lawyer to represent him, a Public Defender has been appointed at tax-payer expense to represent him.
Public Defender Stephen Heckman is representing Raghunandan Yandamuri today.
Raghunandan Yandamuri's case has transfixed the Indian-American community like no other case.
If found guilty, Raghu Yandamuri could face the death penalty.
The Associated Press is reporting that six members of the Venna family are also in the court room today.
Related Posts:
Police Complaint on Raghunandan Yandamuri
Understanding Raghu Yandamuri's Case
Essential Facts about Raghunandan Yandamuri
If He Had Any Brains At All, Raghunandan Yandamuri Would Have Killed Himself
Telugu Gambler Raghunandan Yandamuri's Crime Gamble Failed Big Time