Great crimes by Telugu biddas against defenseless Telugus are not new in America.
Long before the world woke up to the name of the Vennas' murderer Raghunandan Yandamuri, there was the notorious Lakireddy Bali Reddy of Berkeley, California.
Raghunandan Yandamuri was still in high school in Andhra Pradesh when Lakireddy Bali Reddy was committing horrific crimes against young Telugu girls in California.
For 13 years, sex slaver Lakireddy Bali Reddy's reputation as the worst Telugu bidda in North America remained unchallenged.
Until Raghunandan Yandamuri emerged from obscurity on October 26, 2012 and dethroned Lakireddy Bali Reddy as the worst Telugu criminal in America.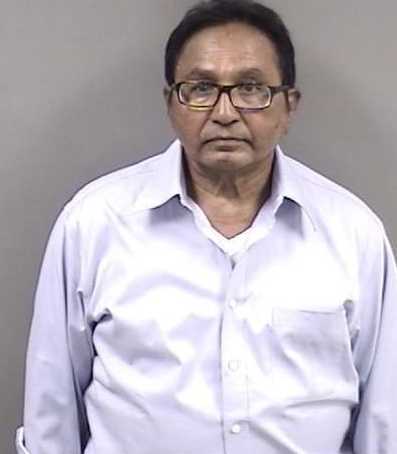 Lakireddy Bali Reddy
(Source: Government Records)
Lakireddy was a savage beast, the metaphorical father of Raghunandan Yandamuri.
Except for one key difference.
Lakireddy was filthy rich, a multi-millionaire when he was arrested while Raghunandan Yandamuri was dirt poor at the time of his arrest for the murders of 10-month-old Saanvi Venna and her 61-year-old grandmother Satyavathi Venna.
And the money made all the difference in helping Lakireddy to get off easily.
For his horrific crimes, Lakireddy spent a mere 8-years in prison while Raghunandan Yandamuri will never leave prison except in a box.
Who is Lakireddy Bali Reddy?
Lakireddy was born in Velvadam village, Mylavaram Mandal of Krishna District, Andhra Pradesh on May 20, 1937.
After completing his B.Sc and B. Tech., from Osmania University, Lakireddy, like countless Telugus since, moved to America.
Lakireddy joined the University of California at Berkeley in 1960 and finished his MS in Chemical Engineering.
The lure of America proved irresistible and Lakirredy Bali Reddy made the U.S. his home.
Lakireddy settled in Amreeka and after a stint in the corporate sector he turned into an entrepreneur, venturing into the Indian restaurant business and subsequently forayed into real estate by buying up apartments and renting them out.
Even as Lakireddy was building his wealth, on the side he was also quietly sexploiting the poor, young Telugu girls he imported from Andhra Pradesh.
Until November 24, 1999, life went swimmingly well for Lakireddy (who was by then a millionaire many times over).
On that fateful Wednesday in November 1999, Lakireddy's crimes were exposed when a poor Telugu girl Chanti Prattipati died of carbon monoxide poisoning in one of his badly-maintained apartments.
Lakireddy's life unraveled after the death of 17-year-old Chanti Prattipati.
Lakireddy would have got away but his goose was cooked thanks to the alertness and persistence of a passerby, Marcia Poole.
After a string of lies, arrests of Lakireddy and some of his family members and a long court trial, Lakireddy finally pleaded guilty on March 7, 2001 to trafficking women and girls into the United States to place them in sexual servitude.
U.S. Justice Department documents show that Lakireddy Bali Reddy pleaded guilty in U.S. District Court in Oakland to an information charging him with transporting minors for illegal sexual activity, conspiring to commit immigration fraud, and subscribing to a false tax return.
Although Lakireddy Bali Reddy faced a statutory maximum sentence of 38 years incarceration, the great tragedy was that he did just 8-years in prison.
Lakireddy also agreed to pay $2 million restitution to the victims as part of a plea agreement.
U.S. Justice Department on Lakireddy Bali Reddy
In 1999, Berkeley authorities who were called to one of Lakireddy Bali Reddy's apartment buildings discovered two Indian girls who were unconscious, apparently sickened by carbon monoxide in the building. One of them later died of carbon monoxide poisoning.

A subsequent federal investigation revealed that Reddy, certain family members, and others had been carrying out a widespread conspiracy since 1986 to bring at least 25 Indian laborers into the United States through false pretenses.

In addition, Lakireddy Bali Reddy arranged for a brother and sister to enter the United States while pretending to be husband and wife. At Reddy's direction, these siblings also brought two girls – posing as their daughters – into the United States for the purpose of engaging in sexual relations with him. In another incident in 1993, Lakireddy Bali Reddy brought into the United States a 13-year-old girl from India for the purpose of sexual relations.

"Sex trafficking of minors is a heinous form of modern-day slavery," said Acting Assistant Attorney General William Yeomans of the Justice Department's Civil Rights Division. "We must work together to protect these most vulnerable victims and do everything we can to stop it."

The case was investigated by the INS, FBI, IRS, Department of Labor, and Berkeley Police Department and prosecuted by the U.S. Attorneys Office for the Northern District of California and the Criminal Section of the Justice Department's Civil Rights Division. The victims in this case were represented by the ACLU Immigrant's Rights Project
Federal Bureau of Prisons records show Lakireddy Bali Reddy was released from prison on April 2, 2008.
After his release from prison in 2008, Lakireddy Bali Reddy was compelled to register as a sex offender in California.
Court records show Lakireddy Bali Reddy is still in Berkeley, California in luxury while Raghunandan Yandamuri languishes in Montgomery County, PA prison awaiting his arraignment on January 16, 2013.
Related Content:
* Background of Lakkireddy Case
* How an infamous Berkeley human trafficking case fueled reform
* Lakireddy Bali Reddy Prison Record