Vishwaroopam Review – A Daring Attempt
If the majority of terrorists and suicide bombers currently are Muslims, is it wrong to depict the terrorists as Muslims  in movies and literature?
In the latest disturbing incident in Incredible India, some Muslims in the South Indian state of Tamil Nadu have applied pressure on the state government to ban film star Kamal Haasan's Vishwaroopam on the eve of its release. Muslim organizations complained that the movie showed their religion in a poor light.
The Tamil Nadu government panicked and quickly banned Vishwaroopam on the grounds that release of the movie would create a "law and order" issue,  which is government-speak for violence. The ban is valid for two-weeks. Update: Kamal Haasan is moving the court to remove the ban.
I think it's wrong to ban Vishwaroopam even for a single day. What do you guys think?
[poll id="6″]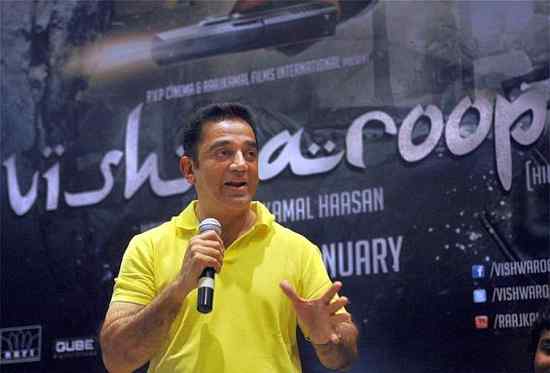 Even Kamal Haasan deserve a fair chance
Photo courtesy: Hindu
Pandering to Minorities
Should India treat Muslims and other minorities like Sikhs, Christians, Parsis etc with kid gloves out of fear of offending them or triggering violence?
Although Hindus comprise 83.45% of India's population, minorities like Muslims, Christians and Sikhs increasingly call the shots in the country.
India's Hindus are a fractious lot, divided by language, caste and region providing an easy opportunity for members of other religions to keep them at bay.
Even Mediocre Artistes Deserve a Chance
South Indian film star and movie-maker Kamal Haasan is hard to endure on the screen.
Most of his movies are cringe-worthy and the fellow's career is sliding.
But even mediocre film artistes like Kamal Haasan deserve their Friday releases.
Just in case you didn't know, Kamal Haasan (a Hindu by birth) is an atheist.
Related Posts:
Vishwaroopam Review – A Daring Attempt