Vishwaroopam Review – A Daring Attempt
Final Update (after completion of movie)

:

* Ban Not Justified.

* Muslims are not insulted at all. But since movie is about terrorism it is impossible to keep Islam out.

* Never before seen visuals in Tamil or maybe Indian cinema.

* Audience engrossed. Whistles and noise for Kamal.

* Background music is ideal …. Quiet for most part.

* Overall good and daring attempt by Kamal by Indian standards.
Update after first Half

:

* Movie not bad. Definitely not run of the mill.

* Fairly well shot and researched.

* Does not look or feel like a Tamil movie
******************************************************
Tamil movie fans in Chicago are greeting Ulaga Madayan Kamal Haasan's Vishwaroopam thriller with a fine response.

Not deterred by the bone-chilling cold, Tamils are thronging Anil Ambani's Big Cinemas theatre at Niles (Chicago), IL, in large numbers.

The folks at Big Cinemas' box office say the weekend shows for Vishwaroopam have received strong booking and that most shows were sold out.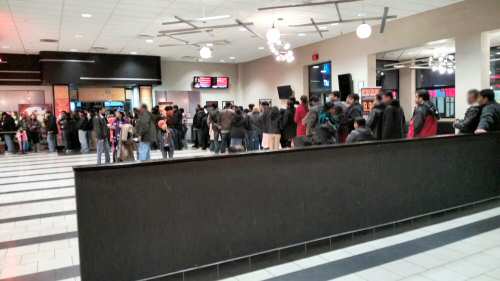 Crowds gathering for Vishwaroopam at Big Cinemas in Chicago
Solid Response on Thursday
Thanks to the controversy over its banning in the cultural terrorism sponsoring state Tamil Nadu and Kamal's not-so-small fan following, Vishwaroopam is drawing a houseful crowd in Chicago.
The large size of the crowd prompted Anil Ambani's Big Cinemas Chicago to host two shows at 8:30PM.
At 8:32PM (Chicago time), SI reviewer's hall had over 150 people and was quickly getting full.
The second hall should also be full since the theatre was dividing the crowd between the two halls equally.
The Vishwaroopam crowd is enthusiastic and the movie hall had several couples.
The presence of many couples is no surprise considering Kamal Haasan has tons of woman fans. 😉
Since it's a working day in Chicago, the 5:15PM show of Vishwaroopam drew a slim crowd of just 30-40 people.
SearchIndia.com will have the review of Vishwaroopam later tonight (likely around 3AM U.S. Eastern Time).
Stay tuned to SearchIndia.com for All Things Indian in America.
Related Posts:
Vishwaroopam Review – A Daring Attempt
Banning Vishwaroopam is So Wrong