Samsung is launching Galaxy S4, the newest model of its smartphones at Radio City Music Hall in New York City this evening.
Coincidentally, SI happens to be in NYC today.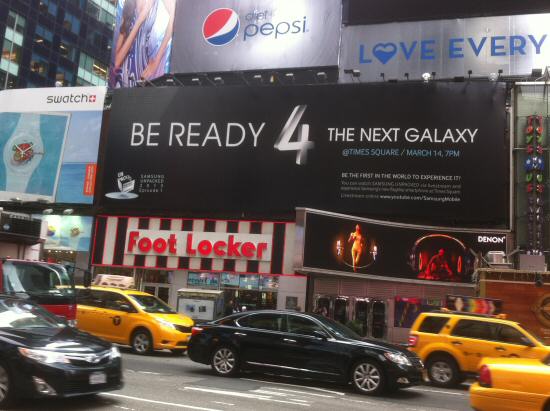 As I wander around Times Square and Radio City in Midtown Manhattan on a cloudy winter day, I see prominent Samsung Galaxy billboards in the area.
Like the Samsung Galaxy S III, the new S4 phones are also powered by Google's Android mobile operating system.
Galaxy S4 – Rumored Specs
While Samsung has not disclosed specs of the new phone, media speculation has the S4 with a 5-inch screen and running Qualcomm's quad-core processor for the U.S. models.
Galaxy S4 models for other markets will be powered by a more powerful eight-core processor.
The S4 phone should come with a 13-megapixel camera (the iPhone 5 only has a 8MP camera) and a better battery. Many iPhone 5 users have complained about the phone's poor battery life.
Apple Worried
Apple is so concerned about the impact of the launch on its highly profitable iPhones that it ran to the Wall Street Journal to throw mud on the Galaxy S 4.
Apple's Senior VP of worldwide marketing Phil Schiller told the WSJ that "Android is often given as a free replacement for a feature phone and the experience isn't as good as an iPhone."
Schiller claimed four times as many iPhone users switched from an Android phone than to an Android phone in the last quarter of 2012.
Android has already made significant headway in the smartphone market with a global marketshare of 66.4%% vis-a-vis 19.1% for iPhone.
Apple's iPhone sales are starting to slow down and the company is boosting advertising.
SI
For several years now, SI has been in the iPhone camp.
Maybe, just maybe, I'll take the Android plunge this time with the Samsung Galaxy S4.