Unconfirmed reports have it that screaming, banshee wails were heard this evening in Alta Mesa Memorial Park, Palo Alto where Apple co-founder Steve Jobs is buried.
The manic screams in Palo Alto coincided with the launch in New York City of Samsung's stunning new smartphone, the Galaxy S4.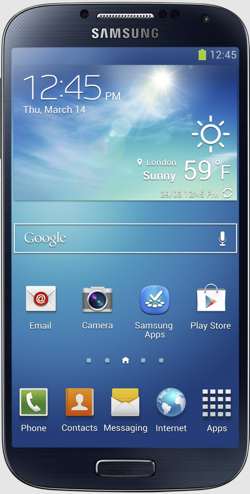 Embarrassment of Riches
Weighing a mere 130gm and sporting a 5-inch screen, the 7.9mm thick Galaxy S4, which runs Google's Android software and comes with a 13MP camera, is a beauty of Ingrid Bergmanesque proportions coupled with jazzy new features.
A dual camera feature lets you use both rear and front cameras simultaneously, which means you can insert yourself into the picture you're taking in a variety of ways (think PIP).
The 'Dual Video Call' function allows you to make and receive a video call with friends and family while showing what you are looking at during the call.
Motion detection technology lets you control the phone with face movements! How much more Wow can  a smartphone get!
The rich set of features in the Galaxy S4 easily makes Apple's flagship iPhone 5 look antediluvian in comparison.
Samsung is already the No-1 smartphone maker in the world in units and the Galaxy S4 should help to expand its lead over arch rival Apple.
Galaxy S4 Availability
Galaxy S4 will be available in the second quarter globally.
In the U.S., AT&T, Sprint, T-Mobile, Verizon Wireless, US Cellular and Cricket will offer the new phone.
Deutsche Telecom, EE, H3G, Orange, Telenor, Telia Sonera, Telefonica, and Vodafone will peddle the Galaxy S4 in Europe.
No word on when the Galaxy S4 will hit Indian shores.
Samsung did not disclose pricing but I suspect it'll be $199 with a 2-year contract. That's the same price as the Galaxy SIII.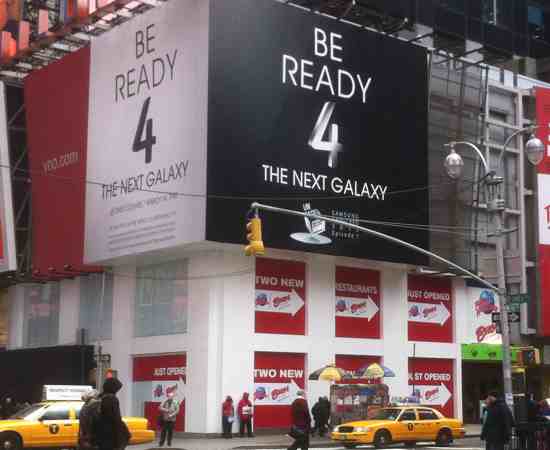 Samsung Galaxy S4 Smartphone Billboard in Times Square, NYC
Samsung Galaxy S4 – Key Specifications:
* Display – 5-inch Full HD Super AMOLED (1920 x 1080) display, 441 ppi
* OS – Android 4.2.2 (Jelly Bean)
* Processor – 1.9 GHz Quad-Core Processor / 1.6 GHz Octa-Core Processor
* Dual Camera – Rear: 13MP Auto Focus  with Flash & Zero Shutter Lag; Front Camera: 2MP, Full HD recording
* Memory – 2GB RAM
* Dimension – 136.6 x 69.8 x 7.9 mm, 130g
* Battery – 2,600 mAh
* Recording & Playback – Full HD (1080p)
* Expandable Storage – 16/ 32/ 64 GB User memory + microSD slot (up to 64GB)
* Network
2.5G (GSM/ GPRS/ EDGE): 850 / 900 / 1800 / 1900 MHz
3G (HSPA+ 42Mbps): 850 / 900 / 1900 / 2100 MHz
4G (LTE Cat 3 100/50Mbps) : up to 6 different band sets (Dependent on market)
* Voice Search
* Colors – Black Mist and White Frost
Cool Features
* Samsung Smart Pause lets you control the screen by where you look. For instance, when you are watching a video, the video pauses when you look away and starts right up again when you are back.
* Samsung Smart Scroll allows you to scroll the browser or e-mails up and down without even touching the screen. The amazing piece of technology recognizes your face looking at the screen and movement of your wrist and then scrolls the pages up or down accordingly.
* Air View allows you to hover your fingers to preview the content of an e-mail, S Planner, image gallery or video without having to open it.
* Air Gesture lets you change the music track, scroll up and down a web page, or accept a call with a wave of your hand.
* S Voice Drive allows you to activate commands via voice control for optimization when driving. After connecting to the car Bluetooth, the Galaxy S4 automatically turns into driving mode converting text to speech so you can easily and safely check messages without needing to glance at the screen.
* Samsung Optical Reader automatically recognizes text, a business card or QR code information, and provides  functions such as translation, call, text message and search.
* IR remote lets you control your home entertainment system including TV, set-top box, DVD player and even air conditioner.
Proof of the Pudding
Ha, ha, everything sounds grand on paper.
But there's many a slip betwixt the hype of an announcement and the reality of the performance with electronic devices.
Remember the hype surrounding Apple's Siri voice search feature and how it failed to deliver?
Let's see if Samsung's execution has matched its tall claims of the Galaxy S4 being "A Life Companion for a Richer, Simpler and Fuller Life."
I can't wait to read the first reviews of the Galaxy S4.
In any case, my love affair with the iPhone is drawing to an end.
Most likely, Samsung's Galaxy S4 will be my new amour.