The Indian-American stranglehold over the Spelling Bee competition continues with Arvind Mahankali winning the 2013 Bee cup today.
Arvind's winning word was "knaidel."
This is Arvind's fourth shot at the Bee cup.
The young lad placed ninth in 2010, finished in third place in both 2011 and 2012 and was the hot favorite this year.
Thirteen-year-old Arvind V. Mahankali is a Telugu. His parents hail from the South Indian state of Andhra Pradesh.
An 8th-grade student at the Nathaniel Hawthorne Middle School 74 in Bayside, New York, Arvind plans to be a physicist.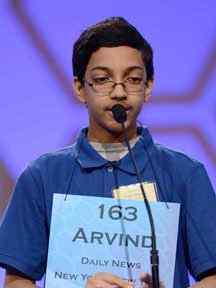 Arvind Mahankali
2013 Spelling Bee Champion
Another Indian-American Champion
This is the sixth consecutive year an Indian-American has become the Bee champion.
At 10:08PM ET, the list in the Bee finals narrowed to three Indian-Americans – Sriram J.Hathwar, Pranav Sivakumar and Arvind Mahankali.
Sriram and Pravan tripped on the words 'ptyalagogue' and 'cyanophycean' respectively.
The Bee finals was held at the Gaylord National Resort and Convention Center in National Harbor, MD.
Andhrites will be pleased to learn that this is the second consecutive year a Telugu is the Spelling Bee champion.
Last year, the Bee champion was Snigdha Nandipati of San Diego, California.
Recent Indian-American Bee Champions
In recent years, Indian-Americans have been basically competing against each other.
Here's a list of Indian-American Spelling Bee champions since 2000:
2013 – Arvind Mahankali
2012 – Snigdha Nandipati
2011 – Sukanya Roy
2010 – Anamika Veeramani
2009 – Kavya Shivashankar
2008 – Sameer Mishra
2005 – Anurag Kashyap
2003 – Sai R.Gunturi
2002 – Pratyush Buddiga
2000 – George Abraham Thampy
Related Spelling Bee Stories
16 Indian-American Kids Make it to Bee Semifinals
2013 Spelling Bee Champion – Will it Bee a Dum Biryani or an Idli-Sambar?
Telugu Gal Snigdha Nandipati is 2012 Bee Champion
Boring News – Indian Kid Wins Spelling Bee, Again; Sukanya Roy is 2011 Champion