Get over it!
Not withstanding the anger of millions of Americans over large-scale government spying, there will not be any change.
Not one whit.
Because the beneficiaries from the spying operations will not allow change.
Helpless Americans
America's intelligence operations have been outsourced to private entities like Booz Allen and several hundred other companies.
Whether it's a Democratic administration or a Republican President, the status quo will continue unimpeded.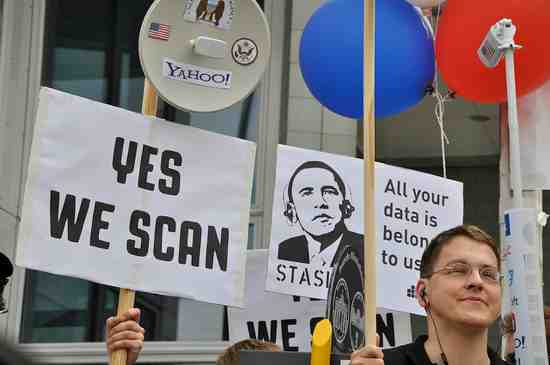 (Picture courtesy: Digitale Gesellschaft)
Having tasted blood (private corporations feast on $56 billion a year in intelligence contracts), these giant private contractors will never allow surveillance operations on Americans and foreigners to be scaled back.
Just like the gun lobby will never allow even the smallest change no matter the repeated incidents of shooting.
Americans can shout, scream, fret, fume, rage and rant but they're impotent, powerless to change the current kakistocracy that is overseen by corporate overlords.
Today, 70% of U.S. government spending on intelligence is distributed to hundreds of private contractors.
As Tim Shorrock wrote in the New York Times yesterday:
Seventy percent of America's intelligence budget now flows to private contractors. Going by this year's estimated budget of about $80 billion, that makes private intelligence a $56 billion-a-year industry.

[T]here's the revolving door — or what President Dwight D. Eisenhower called "undue influence." With few regulations and no questions being asked on Capitol Hill, hundreds of former top N.S.A. and C.I.A. officials have migrated from government to the private sector and back again. The poster boy is Michael McConnell, who served as N.S.A. director during Bill Clinton's first term, then went to Booz Allen for a 10-year stint, became director of national intelligence for George W. Bush from 2007 to 2009, and is back at Booz Allen today.

We have no way of knowing how people like Mr. McConnell formed their business relationships, and what agreements or compromises they might have made to get their private-sector jobs (and vice versa). They may be honorable men, but as recent history has shown us, there's no reason to take them at their word. And the current one-year ban on lobbying for former officials does little to prevent conflicts of interest.
Obama's Fall
Yes, We Can.
Yes, We Scan.
Abandoning his election-winning rhetoric of "We Can" and "Hope," U.S. President Barack Obama has adopted a new mantra – We Scan – that symbolizes the depths of his fall.
The above picture held aloft by German protesters today accurately sums up Obama's genuflection before his corporate masters who pull the strings behind the scenes and insist that the actions of all Americans must be scanned and monitored 24×7 by the National Security Agency (NSA), Federal Bureau of Investigations (FBI) and a host of other government organizations and private corporations.
Loss of trust by Americans in their leaders and government is now complete.