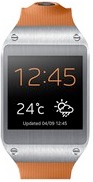 In the remote chance Samsung's Galaxy Gear, the so called smartwatch, proves to be a hit with the masses, it'll only confirm my hypothesis that a lot of humans are no smarter than their simian forbears.
You want to sell a "smartwatch" that works only with "certain" Samsung devices, is underpinned with mediocre software, comes with a plastic strap, yes, a plastic wristband and sports a crappy 1.9-megapixel camera that makes a loud sound when you click a picture for $300?
Holy mackerel, this one is ideal for the lemmings, even if they be of the biped kind!
Folks, forget all the hype about the 1.6-inch Galaxy Gear.
The negatives of the Android-based Galaxy Gear far outweigh the pluses.
What Galaxy Gear does Not Offer
* The Gear watch does not feature a sleek, futuristic look but sports a boxy, squarish design.
* Heck, it does not even play music, merely adjusts the volume.
* Will not take good photos, just crappy 1.9 megapixel pictures.
* Comes with poor quality software. Early observers describe the Gear's software as sluggish, jerky, slow to respond and hard to figure out.
* There are just 70 apps for the Gear and you can't have more than 10 apps on the smartwatch at a single point.
* Definitely not a reasonably priced device given the limited capabilities and lackluster design.
* Less of an independent device and more of a companion to other Samsung products like the Galaxy Note 3 and Galaxy Note 10.1 2014 Edition tablet.
* Will not work with the Galaxy S4 smartphone or the older Galaxy S3, at least not initially.
* Does not offer long battery life and requires you to charge the watch every day.
* Provides a poor quality speaker and you can listen to the sound only if there's silence around you.
Of course, it's not all bad news!
There are some positives, just not many.
What Galaxy Gear Offers
* Alerts users of incoming calls, texts, e-mails and alerts, delivers a preview of those messages and allows users to accept or ignore the messages (by the way, your smartphone already does all of these).
* When an incoming message requires more than a quick glance, users can pick up their compatible Galaxy devices and the Smart Relay feature will show the full content on the screen.
* You can supposedly make a call via the S Voice feature but even if it works you're not likely to hear much of what the other party is saying because of the poor quality speakers.
* The 4GB of internal storage is adequate for the short memos, pedometer results and the crappy photos and videos.
* A Pedometer to measure physical activity and Voice Memo for short notes will surely be useful.
* Oh yeah, the Galaxy Gear shows the time. But so does my $18 Casio with dual time, alarm and a battery that needs to be replaced once in four or five years. 😉
My Prediction
I would be extremely surprised if the Galaxy Gear does not turn out to be a big dud once Samsung starts selling the device and the early adopters quickly get disillusioned and spread the word around.
Samsung intends to roll out the Gear sucker on September 25. It should be available in the U.S. next month.
By the way, the other smartwatches in the market aren't much to write home about either.
From what I've read about the Sony Smart Watch and the Pebble, they've not dazzled many consumers either.
Qualcomm's Toq and Apple iWatch (albeit rumored) are still just noise.
Unless smartwatches pack better features at lower prices, I don't see this category riding the crest of any wave like smartphones or tablets.