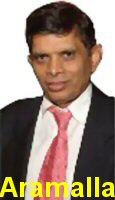 On Thursday, the day that NYC Indian diplomat Devyani Khobragade was arrested, U.S. Attorney for the Southern District of New York Preet Bharara also had 65-year-old Telugu bidda Purnachandra Reddy Aramalla arrested and charged in a multimillion-dollar healthcare drugs fraud.
Aramalla's preliminary hearing is scheduled for January 13, 2014.
Multimillion-Dollar Fraud Alleged
Aramalla, a resident of Port Washington in Long Island and a native of the glorious land of Andhra Pradesh in South India, is alleged to have defrauded Medicare and Medicaid (U.S. healthcare program for the elderly and poor respectively) by selling illegally diverted prescription drugs.
Aramalla has also been charged in a related money laundering offense.
The complaint alleges that Aramalla operates two pharmacies, A Fair Deal Pharmacy Inc. in Queens and Quality Health Drug Inc. in Bronx, that were used to defraud New York through the sale of illegally diverted pharmaceutical drugs obtained from patients.
From October 2010 to August 2012, Aramalla is alleged to have purchased $1.7 million of certain branded HIV medications from two licensed wholesalers that were his primary sources of legitimate drugs. During the same period, he is alleged to received $4.3 million in reimbursements from Medicare and Medicaid for those same drugs.  The complaint alleges that the amount Aramalla received is in far excess of what he would have been entitled to had he only sought reimbursement for legitimately obtained drugs.
This is what Preet Bharara had to say while announcing Aramalla's arrest:
The illegal diversion of prescription medications threatens the health of those induced to sell their medication rather than take it. It threatens the health of those who unwittingly purchase the repackaged drugs believing them to be factory-fresh.
If Aramalla is found guilty, he'll be a state guest a.k.a. prison for a long time. Each of the two charges against Aramalla carries a maximum term of 20 years in prison.
Aramalla must be presumed innocent unless and until he is proven guilty.
Who is Aramalla?

Aramalla is a pharmacist from Andhra Pradesh, the homeland of Telugus before they followed in Christopher Columbus' footsteps.
An alumnus of Andhra University in Vishakapatnam, Aramalla moved to the U.S. in 1984.
The Telugu bidda is also said to have been involved in founding a pharmaceutical firm in the U.S.
Aramalla has a reputation as a philanthropist in Indian circles in New York.