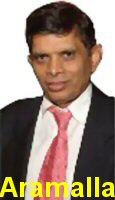 It looks like Long Island Telugu native Purnachandra Reddy Aramalla, 65, is trying to cut a deal with federal prosecutors in the office of U.S. Attorney Preet Bharara of the Southern District of New York.
Aramalla, who owns pharmacies in Queens and the Bronx in New York, was arrested on December 12, 2013 and charged with committing multimillion dollar healthcare drugs fraud on Medicare and Medicaid programs.
In layman's language, Aramalla has been charged with selling second-hand, illegally diverted drugs to patients at his pharmacies.
Aramalla is currently out on bail whose terms include a $2 million personal recognition bond, electronic monitoring, home detention and surrender of travel documents.
Each of the two charges against Aramalla carries a maximum prison term of 20 years.
Plea Negotiations
In a court filing dated February 12, 2014, Preet Bharara's assistant Niketh Velamoor said he's had "discussions regarding a possible disposition of this case" with Aramalla's attorney.
Because of the discussions, there's been no formal indictment yet against Aramalla.
According to Velamoor, "the negotiations have not been completed and we plan to continue our discussions."
We take the terms 'negotiations' and 'discussions' to mean plea bargain discussions under which a defendant will plead guilty (sometimes to a lesser charge) and get a lighter sentence as opposed to a longer sentence that comes from losing a case in a trial.
There's no guarantee that Aramalla and Preet Bhara's office will be able to arrive at an agreement but most likely they will in a few weeks.
The risks are high for Aramalla.
Should Aramalla decide to go trial and then lose the case, the 65-year-old Telugu bidda could well receive a long prison term and may never emerge from prison alive.
If there's a plea deal, it's safe to assume that it will definitely include jail time of at least 10 years and financial penalties in excess of a million dollars for Purnachandra Aramalla.
In the days following his arrest on December 2013, Aramalla's attorney had told the media:
Mr.Aramalla denies the charges and intends to defend his case vigorously.
Strong Case
U.S. prosecutors used information provided by two unidentified cooperating witnesses with close ties to Aramalla's pharmacies to build a strong case against Aramalla.
By cooperating with the federal prosecutors, the two witnesses hope to obtain shorter sentences.
Federal prosecutors say Aramalla's relatives were involved in the operations of the pharmacies but did not identify them or say whether these relatives were also involved in the alleged fraud.
One of the points noted in the complaint against Aramalla was that after removing the labels from illegally diverted drugs, Aramalla's pharmacy:
AFD combines the diverted pharmaceuticals with legitimately obtained pharmaceuticals, and sells them to customers without disclosing to customers that they contain second-hand, illegally diverted drugs. (see p.7 of complaint)
Aramalla must be presumed innocent unless and until he is proven guilty.
The case against Purnachandra Aramalla is being prosecuted by U.S. Attorney Preet Bharara's office in the court of U.S. Magistrate Judge Debra Freeman in the Southern District of New York.