(Thanks to SI Blog's U.S. Reader aaa001)

NYC Indian diplomat Devyani Khobragade, in the eye of a diplomatic storm between India and the U.S. over her alleged Visa Fraud crimes, won two lotteries early in life:
1. Birth as a Scheduled Caste a.k.a. Dalit, a cornucopia that keeps on giving till death in modern India.
2. Birth to an IAS officer (Uttam Khobragade), a priceless advantage in India.
These two lottery wins ensured that Devyani enjoyed access to India's precious scarce resources, far more easily and at far lesser cost compared to 99% of Indians.
The spoils from Devyani's two lottery wins included:
Admission into a prestigious medical school, entry into the coveted Indian Foreign Service, illegal allotment of an apartment in Mumbai meant for military personnel, a plum posting in New York City, high social status and above all, a life of privilege from birth until her recent arrest and strip search.
But did this child of privilege, Devyani Khobragade, do right by her less privileged countrymen like her maid?
Millionaire Devyani – Slave Wage Payer?
Many of Devyani Khobragade's supporters and even some of SearchIndia.com Blog readers have wondered how she could pay her maid Sangeeta Richard a salary of $4,500 per month when she herself was getting a mere $4,000 a month.
But Devyani Khobragade was not a poor woman tirelessly serving her nation on a modest salary.
Thanks to the two lotteries she won, Devyani is an extremely wealthy woman, a millionaire many times over.
Her assets are beyond what the majority of hard-working Indians can only dream about!
She owns both agricultural and non-agricultural land in multiple states – Maharashtra, Uttar Pradesh and Kerala.
Devyani has an apartment in Mumbai, one of the most expensive places in the world, at the Adarsh Housing Society (the scandal tainted building where ineligible and highly connected people like Devyani were allotted apartments).
Media reports suggest she sold another apartment in Mumbai flat for Rs 1.9 crore (Source: Times of India).
Take a deko below at Devyani's immovable assets but keep in mind that in India assets are often grossly undervalued: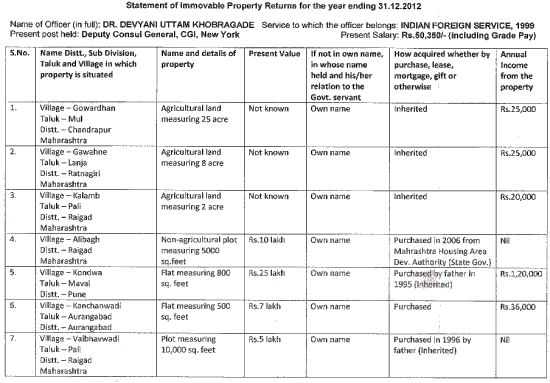 Devyani Khobragade's Assets Reported to Government of India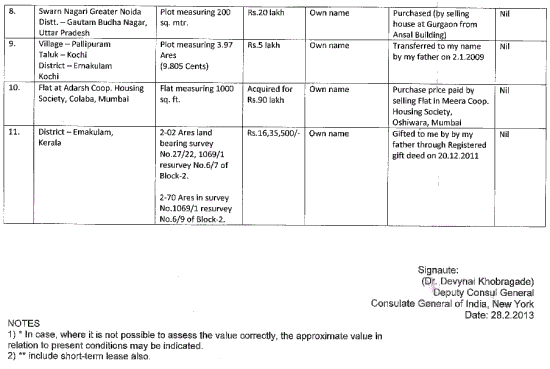 Also the asset list above is a bit dated and does not list stuff like bank accounts, stocks and jewelry (as we all know, Indians have an obsession for gold jewelry unmatched by any other nationality).
Bottom line – Devyani Khobragade is a fabulously wealthy person compared to the majority of Indians.
Millions in Assets but $3.31 for the Maid?
If the criminal complaint against Devyani Khobragade is true, the millionaire was paying a slave wage of just $3.31 per hour to her maid Sangeeta Richard despite promising the U.S. Embassy in Delhi that she would pay $4,500 a month, or at least $9.50 per hour.
Neither Devyani nor her vociferous supporters in India have so far refused to address two fundamental questions:
Was this millionaire diplomat paying a slave wage to her maid and did she lie to the U.S. Embassy about the slave wage she intended to pay her maid Sangeeta?
What are they hiding?
Indians and Americans  deserve a straightforward answer now, from Devyani herself and her hypocritical government supporters who have smeared the maid.
If Devyani Khobragade is found guilty, the U.S. must seriously consider compelling the diplomat to forfeit some of her assets as a cautionary lesson to others tempted to engage in similar bad behavior.