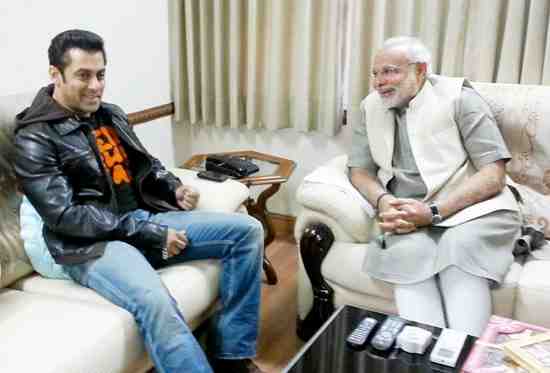 Love Fest – Retail Killer (left) with Wholesale Butcher (right)
Say what you will but pigs will love only other pigs.
This morning BJP leader Narendra Modi couldn't contain his excitement at meeting Bollywood star Salman Khan. Modi tweeted pictures of him with Salman and boasted about having lunch with the actor.
And Sallu Bhai warmly reciprocated the love, describing Modi as a "Good Man" and hailed him for making Gujarat a "progressive state."
Salman Khan has earned a well deserved reputation as a beast for his tendency to alleviate boredom and seek new thrills by murdering sleeping people by driving his car over them, beating his girl-friends and killing endangered species of animals.
Where Salman operates on a retail level in harming people, Narendra Modi's grievous injury to people is on a wholesale level.
During Modi's tenure as Chief Minister of Gujarat, more than a thousand Muslims were butchered by marauding Hindus.
Strange Bedfellows
Now these two Chutiyas, Modi and Salman, have come together for their petty personal goals.
Salman Khan is desperate to make his upcoming film Jai Ho a big hit while Narendra Modi will get relief from hemorrhoids pains only when his butt makes contact with the Prime Minister's chair.
Now you know why we call Mera Bharat Mahaan Incredible India!
Incredible,  for all the  wrong reasons. 🙁
Stupid fucks who genuflect and worship at the altar of savages like Salman Khan and Narendra Modi deserve their misfortune!