————————
Final Update: Wunderbar! Dash has gotten commitments of a whopping $3.39 million from 15,998 backers. The original funding target was a mere $260,000! Folks, Dash is one of the biggest successes on Kickstarter! I hope the final product lives up to giant expectations.
First Update: With 47 days to go, Bragi has hit 168% of its target. As of 8:31AM ET on February 12, 2014 the makers of Dash had received commitments of $436,826 from 2,188 backers. Remarkable!
————————
Barely 48 hours after it showed up on the Kickstarter crowdfunding site to raise $260,000 for its Dash Wireless Smart In Ear Headphones project, Munich (Germany) startup Bragi has already hit 72% of its funding target.
On paper, Dash looks to be an extremely interesting all-in-one wireless headphone.
But in the technology startup world hype is often ahead of the real deliverables.
So exercise caution if you plan to back Dash via Kickstarter!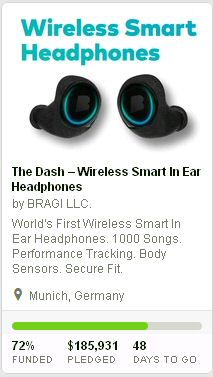 Why Should I get Excited?
* A sexy li'l wireless in-ear headphone
* Bluetooth Headset
* 4GB (1,000 song) MP3 Player
* Microphone
* Fitness Tracker
* Heart Rate Monitor
* Works with or without smartphone or tablet (plays music without smartphone/tablet)
* Supports iPhone and Android (limited support for Windows Phone and Blackberry)
Inside Story
* 4GB Flash storage
* Battery 100 mAh
* 32-bit Arm Processor
* Digital Signal Processor
* Bluetooth 4.0 with APT-X
* Analog Frontend with 22bit ADC
Dash Price
Kickstarter Price – Starts at $179
Retail List Price – $300
Dash Status & Delivery
* September 2013 – Second electronic prototype ready
* February 2014 – Negotiating with suppliers
* March 2014 – Software build for final electronics platform
* July 2014 – Beta Prototype and trial run
* October 2014 – First 1,000 pieces for Kickstarter backers
* November 2014 – Full scale production
What Do I Think?
I will wait for the first reviews before deciding whether to buy the Dash wireless in-ear headphone.
But I will confess to being impressed with what I see.
The device looks cool and the features are impressive.
And I still have faith in German engineering and quality.