If you schmucks thought all the cool products in the world emerge only from the womb of giant corporations like Apple or Sony, you'd be so wrong.
Thanks to the paradigm shift wrought by the Internet, even unknown individuals with limited resources but bright ideas can get funding to realize their giant dreams.
In 2014, so many novel, cool devices are going to hit the market you'll be left rubbing your eyes in wonder.
Most of the exciting products coming out in 2014 do not cost a king's ransom but run to only a few hundred dollars at most.
I've listed a dozen interesting products being developed by small entrepreneurs around the world. All of them have raised money from crowd funding sites like Kickstarter and Indiegogo.
One depressing thing stands out among the many interesting projects  – Not a single cool device is being developed in India.
I never see an Indian name unless the person is, like Karishma Nagar (below), a desi based in the U.S.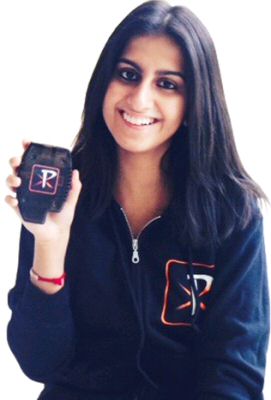 * Pixeom – Personal Exchange Cloud Device (above, Karishma holding Pixeom device)
Details – A secure cloud box for storage, collaboration, hosting discussion boards and a storefront with built-in payment processing, inventory management, and CRM.
Creator – Karishma Nagar and her brother Sam Nagar, Los Angeles
Availability – May 2014
Web Site – http://www.pixeom.com
Kickstarter Page for Pixeom
* YaCyPi – Rasberry PI (Model B) based decentralized Internet search engine
Details – A Linux based software stack that is supposed to allow for free internet searches through a decentralized network.
Creator – Obsidian Security Services, Baltimore
Availability – April 2014
Web Site – http://obs-sec.com
Kickstarter Page for YaCyPi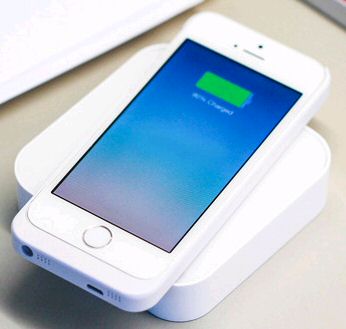 * Ark – Portable wireless charger (see above)
Details – Each full charge of Ark supports three complete charges of your iPhone or Samsung Galaxy S3/S4, Nexus 4, Mokia Lumia from a compact device. Dual charging of two devices simultaneously (one wireless and the other through USB cable).
Creator – Bezalel, Los Angeles
Availability – March 2014
Web Site – https://twitter.com/BEZALELteam
Kickstarter Page for Ark
* Dash – Wireless in-ear headphones
Details – Bluetooth headset with built-in music player, microphone, fitness tracker and heart rate monitor
Creator – Bragi LLC, Munich (Germany)
Availability – November 2014
Web Site – http://www.bragi.com
Kickstarter Page for Dash
* OBDLink MX WiFi – On Board Diagnostics gadget provides access to car's computer on mobile phones or tablets
Details – Provides check engine light information, fuel economy, remote start and door lock (for select cars), and car performance information on Android or iOS devices and PCs
Creator – OBD Solutions
Availability – April 2014
Web Site – http://www.obdsol.com
Kickstarter Page for OBDLink MX WiFi
* Sammy Screamer – Motion alarm
Details – A movement sensor controlled by smartphone. When your stuff gets moved Sammy will scream and send a notification to your iPhone or Android smartphone. Also supports iOS and Android tablets.
Creator – BleepBleeps, London
Availability – August 2014
Web Site – http://bleepbleeps.com
Kickstarter Page for Sammy Screamer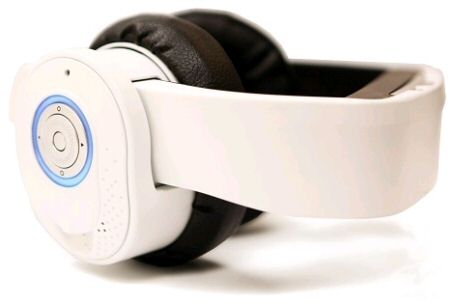 * Glyph – Virtual Retinal Display (see picture above)
Details – Screen-less mobile personal theater with built-in premium audio; Projected directly on to the retina using micro-mirrors. Supports movies, games and any type of content. Battery life enough for a Bollywood film – Three hours
Creator – Avegant
Availability – Q4, 2014
Web Site – http://avegant.com
Kickstarter Page for Glyph
* Wet Diaper Detector – Keychain with USB that lights up when brought near a wet diaper
Details – Takes the guesswork out of your baby's disper
Creator – Eric Schuh
Availability – March 2014
Kickstarter Page for Wet Diaper Detector
* Athene – Utility Style Bracelet
Details – A designer bracelet with a charging cable and 8GB flash drive with support for Android or iOS or Windows or Blackberry
Creator – John McRoy, UK
Availability – February 2014
Indiegogo Page for Athene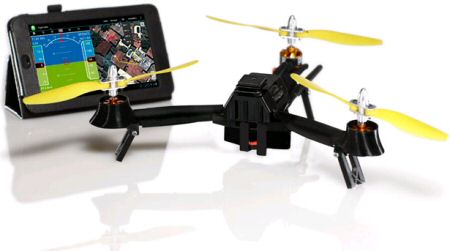 * Pocket Drone – Personal flying robot (see image above)
Details – An under $500 lightweight multicopter with camera mount that folds up to less than a 7-inch tablet and can fly for 20-minutes with a camera.
Creators – AirDroids, San Diego, USA
Availability – 2014
Web Site – http://www.airdroids.com
Kickstarter Page for Pocket Drone
* FixMeStick – Easy malware removal from Mac computers.
Details – Linux based Bootable USB device with three integrated scanners from Kaspersky Labs, Sophos, and ThreatTrack's VIPRE for removing hard-to-detect malware from Apple computers.
Creators – Corey Velan and Marty Algire
Availability – April 2014 (i.e. if they get funded)
Web Site – http://www.fixmestick.com
Kickstarter Page for FixMeStick
* Wise Button – Universal remote control and device tracker
Details – Compatible with iOS, Android and Windows phones
Creator – Vladimir Plotnikov
Availability – June 2014
Web Site – http://www.wisebutton.com
Indiegogo Page for Wise Button