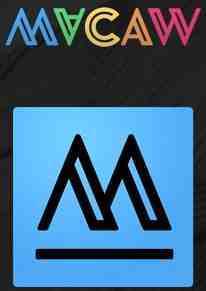 The Good News for Macaw Fans – Web site design tool Macaw is ready for download and use.
The Bad News for Macaw Fans – Macaw is ready for download and use.
Sweetie, there's no contradiction there.
Macaw is a much anticipated product thanks to a phenomenal response on the crowd funding platform Kickstarter in the fourth quarter of 2013.
Its release must surely have been welcome news to its backers and many others who were keen on using the product.
But response to the recent official release of the much anticipated Macaw software has been less a thunderous ovation than vocal criticism over bugs and missing features with some irate customers even demanding a refund.
So while Macaw fans were at first eagerly looking forward to the release of the software, now they're angry over the release of a very buggy product.
Macaw, which appears to be a tiny startup (four developers??), was a big hit on Kickstarter last year and received a commitment of $275,929 from 2,752 backers against a target of $75,000.
I'm not completely surprised the two early commercial releases (not beta) of Macaw are buggy.
Like it or not, that's the way much of software development works. Unless developers slip and fall off the software development cliff into some deep crevasse, applications usually get better with each update. I do agree the typical application development cycle is little consolation for stressed out users encountering crashes and a variety of bugs.
Complaints Galore
Macaw's problem is that when they launched with a slick presentation on Kickstarter, they went overboard on the promise:
The next generation web design tool. Powered by the world's most intelligent design-to-code engine.
With Macaw, there was no need to wade into the slush of writing HTML or CSS.
Its ease of use and drag-and-drop capabilities were sold as big pluses on Kickstarter last year:
The canvas is fluid; the grids are fluid; even the elements you draw are fluid. So, designing percentage-based layouts is made dead simple. Drag and drop elements where you want them and Macaw will take care of the calculations for you.
Macaw was touted as "the first web design tool to blend the fluid and intuitive interface of an image editor with a powerful design-to-code engine."
The tiny outfit boldly promised it was "striving to make life easier for designers and developers."
With such a feverish pitch to potential investors and users, not surprisingly expectations among Macaw's Kickstarter backers and other web designers and developers about the software's capabilities ran sky-high.
When Macaw version 1.0 for both Mac and Windows debuted March 31, 2014 and the product failed to live up to the hype, some users erupted in anger over the unacceptable quality of the product while others littered the Macaw forums with reports of bugs galore. Users were livid that even "basic features" were missing in the software.
Responding to a fury of protests, Macaw quickly put out Version 1.0.1 on April 4 but that didn't calm the mob because  new bugs cropped up.
One user (MJWBOISE) complained:
I have new problems with v1.01 that I didn't have before. Program locks up which didn't happen before. Color picker locks up now.
Issues with the initial two releases Macaw are far too many to reproduce here in their entirety but some of the problem areas include login, process of updating to 1.0.1, missing stuff like hover, click states and the ability to share common elements among multiple pages, missing fonts (on the Windows version) etc.
Macaw also goofed by not putting up some How-tos and videos.
The bottom line is that Macaw does not seem to be ready for prime time yet.
For instance, see this complaint from user zeebaf on April 8, 2014:
It has been a week you have released an incomplete software to public which is useless at this point of time which always ends up crash and breaks down. It's unfair for me as I paid for it and sent few emails to support and never get replied, what kind of support you are giving to your customers here? I feel I have been robbed in day light.
Another user Jaem01 was no less blunt:
Another very disappointed customer here! Promises was huge, demo was outstanding, first impression was very good, I like cool UI, but…

After few hour of playing (yes, in this time it is nothing else, but game) I've figured, that I waste too much money for nothing…
Frustrated over absence of properly functioning basic tools for lists and tables user Jaysylvester vowed not to buy any software in future before using it, in other words not to fall for the hype of tall promises:
I know, it's new software. But they should have extended the beta and opened it up to more users at a deeper discount. I think this is the last time I pay for any software before I can use it, discount or not. It just doesn't do what I expected it to do, and I watched the video before buying.
Clearly, these kind of caustic user responses are not what the Macaw team was expecting to the launch of its software.
After all, bad news travels faster than good news.
With the benefit of hindsight, it appears that the Macaw underestimated the challenges and the time required to deliver a decent functional product:
Replying to a swarm of bug reports and complaints, Macaw CEO Tom Giannattasio wrote on April 2, 2014:
We know that some of you are frustrated with the bugs and wish that there were additional features so you could work Macaw into your regular workflow. We want them in there just as badly as you do! Please remember, though, that we're a small team and we're tackling some very large problems. We're working really hard to iron out bugs and we're devoted to building a great design tool for the community.

Macaw comes with a learning curve. We have some very unique features that have not been seen before in visual editors. We're working to compile documentation to help you learn the tool and we will have that up soon.
Given the volume of complaints, Macaw is hinting it might be willing to consider a discount to users for Version 2 of the software as well as extend the trial period for free use of the software from two weeks to 30-days.
Their disappointments aside, several users of Macaw still seem willing to give the company the benefit of doubt and additional time to get all the wrinkles out of the software. That's a good sign for Macaw.
But if the next few updates fail to get most of the bugs, crashes and lockouts out of the software, it'll not only deal a severe blow to Macaw's reputation but could impact investor response to future Kickstarter software projects.
In general, my recommendation to users with any new software app is to let the early adopters carry the heavy weight.
Let the early adopters struggle and vent over bugs, crashes, login issues, lockouts and missing features, give time to the developers to fix 'em and then take the plunge into the purchase.
You might have to pay a little extra compared to the early adopters but I guarantee it'll save you a lot of time, stress and angst that several Macaw users are currently experiencing.
Macaw costs $179 (Apple OS X or Windows). A 14-day trial version is available.
The Mac version should work on OS X 10.6.8 and above, and the Windows version on Windows XP and above.