I've started drinking again (I swear on Swaminarayan, Jesus & Balaji).
My health be damned!
Remember those hot U.S. desi babes Ankita and Madhuri with their crazy cockamamie idea about an Indian mealkit service Saffron Fix (they ship you the spices and vegetables and you do the cooking and cleaning).
Saffron Fix debuted on the crowdfunding site Kickstarter a few days ago.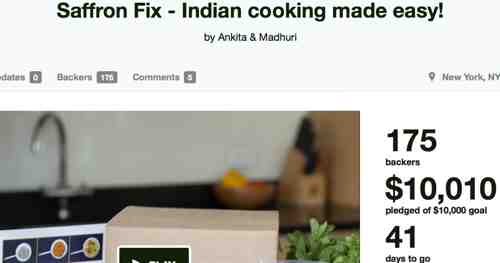 Folks, I'm sorry that I have to be the one to break this news to y'all.
Hear, hear: This evening, the babes got kickstarted and good sense got kicked in the face!
No kidding.
Yes, Ankita and Madhuri have met their Kickstarter goal of $10,000. They still have 41 days to go!
As of  6:49PM (ET), Saffron Fix had received commitments for $10,010 from 175 backers.
And a lot of the backers are U.S. desis! Wonder if these people overdosed on Bhang thinking it was Lassi!
As per Kickstarter, Saffron Fix will be funded on September 14, 2014 8:00 PM.
If these babes can get kickstarted for their crazy idea, I think any of you can throw your hats in the Kickstarter ring.
Go for it!