Hindu-born Christian convert Piyush 'Bobby' Jindal, the Indian whacko who wants abortion to be disallowed without exception even in rape or incest cases or if the mother's health is at grave risk, has developed a bad case of Presidential itch.
In a desperate bid to gain attention of the media, the Republican base and Republican donors, Jindal is not only flinging mud at Obamacare but throwing up a sick alternative to fix America's disgraceful healthcare system.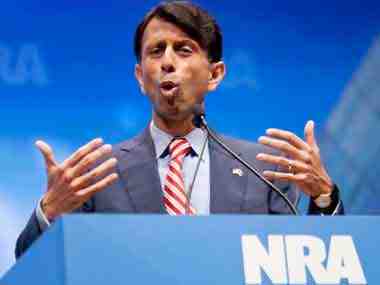 Jindal charges Obamacare with being "fiscally unsustainable" and demands the signature 'achievement' of Barack Obama "be repealed in its entirety."
Folks, let's not forget that it was the same hypocrite Jindal who voted "No" to allowing the government to negotiate directly with drugmakers for lower prescription drug prices for Medicare patients. That would have yielded significant savings to the government but the so called fiscal conservative Jindal opposed the measure.
If Jindal's opposition to Obamacare and his alternative proposal are bad news, the good news is that the bozo has no chance of making any headway with his stupid plan and zero possibility of getting Obamacare repealed.
Obamacare – Far from Perfect
We'll be the first to admit Obamacare is not perfect.
Good Lord, there're so many issues with it including high premiums, high deductibles and the refusal to confront the crucial issue of obscene pricing by doctors, hospitals and pharmaceutical companies.
But Obamacare is at least a beginning in the right direction since it has some pluses like coverage of pre-existing conditions.
Jindal Alternative – Trash
Bobby Jindal's alternative for fixing America's healthcare crisis is the same old rehash of Republican non-starter initiatives of the past.
Using meaningless expressions like "empowering patients" and "enhancing patient choice" in a 24-page proposal released today, Jindal lashes out at Obamacare.
At bottom, Bobby Jindal is no different from any of the other Republicans in his love for "market forces" to fix America's disgraceful healthcare system. No matter that the market is poor comfort for millions without insurance.
Some of the measures Jindal recommends in his proposal include:
* Standard tax deduction for all insurance purchases
* Encouraging Health Savings accounts
* Restricting abortion
* Bringing religion into healthcare by allowing businesses and doctors/nurses the legal right to refuse to provide services on "conscience" grounds [see p.19 of Jindal's plan]
* Limiting malpractice lawsuits against hospitals and doctors and damages for victims
* Destroying Medicare by trying to push elderly into private "premium support" schemes
* Cutting Medicaid through the cockamamie nonsense of "fixed funding allotment"
* Letting people buy insurance across state lines (a suggestion discredited by economists like Paul Krugman and other thinkers as being harmful to consumers)
Most of Jindal's proposals are worthless and will do little to improve America's train-wreck of a healthcare system.
Given rampant, inhuman greed of hospitals, pharma companies and doctors, the only humane healthcare system is a universal single-payer system like Canada or UK.
But a single-payer system will never come about in America as long as we have ReThuglican beasts like Bobby Jindal with their satanic love for "market forces."
What about Bobby?
Given his Christian fundamentalist beliefs, Bobby Jindal is a disgrace to the Indian community and a blot on America.
Besides his nasty Christian fundamentalist beliefs, Jindal is also pro-guns, opposes gay marriage, voted against the Hate Crimes Prevention Act of 2007 and is opposed to raising the minimum wage (a pathetic $7.25 an hour).
But as with all savage beasts, Jindal suffers from unbridled ambition.
The man can't wait to get into the White House.
Currently in his second term as Louisiana Governor, Jindal has his eyes fixed on the 2016 Presidential elections.
But this clown Jindal has as much chance of becoming President as I have of dating Jennifer Lawrence!
In the 2014 Conservative Political Action Conference straw poll held in early March, Jindal got a pitiful 2% of the votes, same as that dodo Sarah Palin.
After six years as Governor, if Jindal could muster just 2% of the Conservative votes then his chances of becoming President in 2016 is less than ZERO. 🙂
Jindal is unpopular even in his home state Louisiana.
In a recent opinion poll, 53% of Louisiana voters disapproved of Jindal's performance as Governor.
It took over 200 years for a Black man to become President.
If this Brown beast Bobby Jindal thinks he's going to become President in 2016, then I'm Alexander the Great.