We think Bobby Jindal is a disgrace and brings much shame to the Indian-American community.
And shame to Louisiana as well, the unfortunate U.S. state of which Bobby will soon be its next Governor.
Of course, many Desis in the U.S. will disagree. They are pleased as punch that Bobby will become the first Indian-American Governor of a state in the U.S.
Born on June 10, 1971 in Baton Rouge to Hindu parents from India, Piyush "Bobby" Jindal converted to Christianity (the Catholic faith to be precise).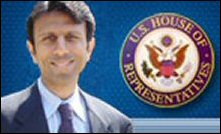 Bobby Jindal – A Disgrace
On Saturday, Bobby Jindal won Louisiana's gubernatorial election in an open primary with 53.91% of the votes.
Bobby will become the state's first non-White Governor in 130 years when in January he moves into the Governor's mansion in Baton Rouge, the capital of Louisiana, after he takes office in January.
Bobby Jindal's victory is a tragedy for many reasons.
A tragedy for women most of all because Bobby has made his position on abortion clear in no uncertain terms.
Bobby is opposed to abortion without exception. What does that mean? This means even if the woman's health is at risk or the pregnancy was caused by rape or incest, Bobby would not condone abortion.
Politicians like Bobby Jindal set back the hard-won victories that women in the U.S. have gained over several decades.
Bobby's position on abortion is extremist even within the right-wing Republican Party of which he is an obedient foot soldier.
Bobby Jindal made his right-wing extremist views on abortion clear in an interview with his home town newspaper The Times Picayune in September 2003:
"I am 100 percent anti-abortion with no exceptions. I believe all life is precious."
Bobby is also opposed to hate crime laws, which mandate stiffer penalties for crimes motivated by hatred toward a particular person or group based on race, age, gender, religion or sexual orientation.
Bobby wants hate crime laws to be repealed. Victims of hate crimes are usually Blacks, Latinos, immigrants and women.
On the never-ending disastrous war in Iraq and extending the tax cuts for the wealthy, Bobby Jindal is in bed with George W.Bush as evidenced by Bobby's voting record in Congress.
On the crucial prescription drug issue, Bobby voted No (in line with his Republican Party) to allowing the government to negotiate directly with drugmakers for lower prescription drug prices for individuals using Medicare, according to the Washington Post.
But that's not all.
Consider Bobby's views on Intelligent Design, the juvenile notion of Christian fundamentalists which essentially argues that Darwin's theory of Evolution is wrong.
In a profile of Bobby Jindal, the New York Times wrote on October 19, 2007:
He is a born-again Roman Catholic who has suggested that teaching intelligent design as an alternative to evolution may not be out of place in public schools, favors a ban on abortion and opposes hate-crimes laws.
On all the critical issues facing the United States or his home state Louisiana, Bobby Jindal's positions are deeply flawed, affronts to the disadvantaged sections of society and inimical to the long-term interests of the people.
Of course, there will always be people who argue that Bobby Jindal is a brilliant fellow and that America's poorest, unhealthiest, least educated and most corrupt state Louisiana needs someone like Bobby to fix things. That's an argument that does not wash with us. It's like saying Mussolini made the trains run on time and that Hitler revitalized the German economy.
After he narrowly lost to Democrat Kathleen Blanco in the Governor's election in 2003, Bobby turned his sights toward Congress.
Bobby Jindal currently serves as a U.S. Congressman for the First District of Louisiana. He was elected to Congress in 2004 and re-elected to a second term in November 2006.
Blanco did not run for re-election after her pathetic record following the Katrina hurricane disaster in New Orleans and surrounding areas.
Bobby attended Brown University where he graduated with honors in both biology and public policy and then as a Rhodes Scholar went to Oxford University for his graduate degree in 1994.
In 1996, Bobby was appointed Secretary of Louisiana's Department of Health and Hospitals and three years later appointed President of the University of Louisiana System.
President George W.Bush named Bobby Jindal Assistant Secretary for Planning and Evaluation of Health and Human Services in 2001, from which post he resigned two years later to run for Governor of Louisiana.
Bobby Jindal is married to Supriya and is the father of three young children.