Telugu bidda Satya Nadella, Microsoft's new CEO, is clearly a desperate man as he struggles to reverse the company's pathetic performance in two hot sectors – smartphones and tablets.
Unless you're a blithering idiot hiding under some rock in hooker paradise Chilakaluripet, you know Microsoft's smartphone and tablet forays have failed to excite consumers and triggered huge losses for the company.
Late to the market, Microsoft's Windows software has just not been able to make headway against the two entrenched mobile platforms – Google's Android and Apple's iOS.
Last we checked, Windows had a tiny 2% market-share in tablets and 3.2% in smartphones (Source: Gartner). Android and iOS combined had over 94% marketshare in both tablet and smartphone categories.
Microsoft was not even among the top five smartphone or tablet vendors in 2013.
Since there's little doubt that Nadella's survival as CEO depends on his turning around Microsoft's limping mobile devices business, the Telugu bidda has no choice but to roll the dice on desperate measures.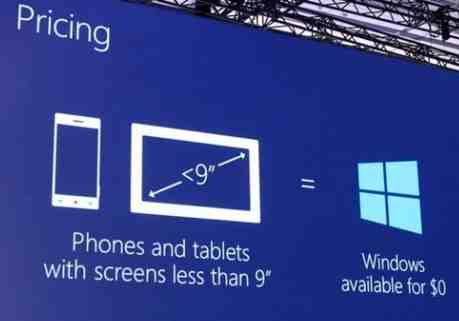 Free Windows – Satya Nadella's Desperate Gamble
(Image: Verge)
Desperate Move
Besides being late to the party, Microsoft smartphone and tablet forays have also suffered owing to lack of support from hardware players.
Traditionally, Microsoft has preferred to work through partners who install Windows software on top of their hardware like PCs and notebooks and pay a few dollars to the company for each device.
Android has dozens of hardware vendors (Samsung, Lenovo, HTC, Karbonn etc) who peddle smartphones and tablets running its software because it's free.
While Microsoft has a few hardware partners for its smartphones (Samsung, HTC, Huawei and Nokia) and tablets (Dell, Acer, Asus, Lenovo), none of them with the exception of Nokia (soon to be part of Microsoft) are putting much effort into pushing their Windows gadgetry. Au contraire, some of them (Samsung, HTC, Huawei) are aggressively pushing their Android devices be they smartphones or tablets.
Apple has no hardware partners but to compensate has a strong fanboy following.
Microsoft's tablets and smartphones have neither the breadth of Android's partners nor Apple's cult, slavish following.
So in a desperate bid to gain marketshare and better compete with its rivals, Microsoft's new boss Nadella has made its Windows Phone OS and Windows 8.1 software free for smartphone and tablets with screen size less than 9-inches hoping that hardware vendors will make a beeline for the two platforms.
Since Microsoft is selling few smartphones or tablets, it's not losing much by making Windows free to mobile hardware device vendors.
But Nadella's "free" strategy is unlikely to work because Microsoft is not offering anything special over Android.
In terms of the underlying software and the app store, both Google and Apple are far ahead of Microsoft with a robust OS and a solid ecosystem of developers and accessories providers who extend the capabilities of the mobile device.
Bribes – Better Strategy
Microsoft would be better advised to pay money (bribes) to hardware vendors to support its mobile software platform.
Since Chinese manufacturers often work on slim margins, they'd be receptive to financial overtures that go beyond free.
In the past, Microsoft has worked with hosting companies providing them various incentives to push back against Linux.
Let's not forget Microsoft has also been paying developers to write apps for its mobile platform.
So a combination of financial and support incentives for Chinese, South Korean and Indian hardware vendors and to app developers everywhere is more likely to yield results than just offering Windows Phone OS or Windows 8.1 free to smartphone and tablet vendors.
I'd be extremely surprised if Satya Nadella's gamble to "free" up Windows Phone and Windows 8.1 to smartphone and tablet vendors will move the needle in boosting Microsoft's share of these mobile devices significantly.
Truth be told, I'm shocked the Telugu bidda Satya Nadella has not considered going down the bribe road because if Indians are good at anything it's giving and  taking bribes. 😉