Each time a new report on smartphones or tablets comes out, it must be another humiliating, embarrassing moment for the microserfs toiling away at Microsoft on the Sisyphean task of growing marketshare for their unwanted, little-loved, mostly ignored mobile devices.
A new smartphone report out today from Kantar Worldpanel offers little comfort to Microsoft.
Android continues to lord over the smartphone market thanks to Samsung and the flood of cheap devices gushing out of China.
Apple has its loyal fanboys who'll buy anything the company shovels at them.
But Microsoft gets little love from consumers or enterprises for its Windows Phones or Surface tablets.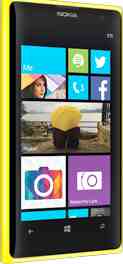 Windows Phone – Little Love
Key Markets
In several key smartphone markets, Microsoft continue to wage a futile struggle to move the marketshare needle.
Worse, Windows Phone has a pitiful share of just 1% in huge emerging markets like China.
Only in UK, France and Italy does Windows Phone have over 8% of the smartphone market.
In the U.S., one of the largest smartphone markets, Windows Phone has just over 5% of the market.
To say that Microsoft faces an Everest of a struggle in the smartphone market is to understate the reality.
If history offers any guidance, it's that Microsoft's huge losses on Surface tablets will likely be repeated on the Windows Phone side too in the coming quarters.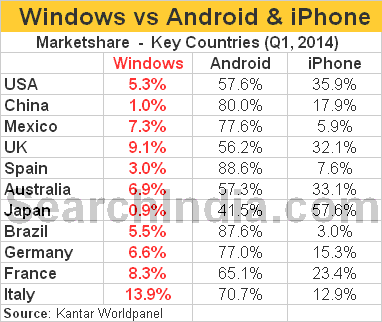 What about India?
I know, I know.
All of us are curious about Microsoft's standing in India in the smartphone arena.
Unfortunately, the Kantar Worldpanel survey does not provide any data for India.
But media reports in the past have pegged Windows Phone owning just 3.6% of the Indian smartphone market in the third quarter of 2013.
I doubt Windows Phone's position has improved significantly over the last six months in India.
Nadella Will Hang
Telugu biddas in America and worldwide can't stop wetting their langots over Satya Nadella, one of their own, becoming head of Microsoft.
But if you ask me, even Lord Balaji, beloved God of the Telugu biddas, can't save Windows Phones or the Surface tablets.
The question is not if Telugu bidda Satya Nadella will hang over huge losses in the company's mobile devices business but when he will be strung up by the board.
When Telugu bidda Satya Nadella loses his job as CEO of Microsoft in 18-24 months, the primary reason will be for presiding over huge losses in the mobile arena and his failure to develop a growth strategy for Windows smartphones and Surface tablets.
But Nadella can do little to alter Microsoft's fortune in smartphones or tablets.
No Silver Bullets
Nadella has no silver bullets in his arsenal to rescue Windows Phone or Surface tablets.
Microsoft suffers from too many insurmountable obstacles vis-a-vis Windows Phones and Surface tablets:
* Absence of first-mover advantages. Companies like Uber, eBay, Amazon, PayPal, Apple etc owe their success to being first or almost first in the market. Marketshare often follows those who first gain a foothold and mindshare.
* Strong rivals like Google, Samsung, Apple and Amazon (smartphones coming soon) with deep pockets.
* Lack of gee-whiz features in Windows Phones.
* Besides having a huge headstart, Apple and Android have developed a large ecosystem of partners that Microsoft is having a time matching.
* Strong supply-chain networks and design advantages of rivals like Samsung and Apple.
* Absence of Fanboy support that Apple thrives on.
Together, these disadvantages leave Microsoft with little chance of besting its Android or iOS rivals.
As low-cost Chinese Android smartphone vendors like Xiaomi and Huawei launch their smartphones in more countries, Windows Phones are likely to witness only declining marketshare.