Why is Microsoft CEO Satya Nadella pulling his pubic hair out?
Kiddo, I suggest you look to your left.
Does it look like the bald coot has any hair left on his head? 😉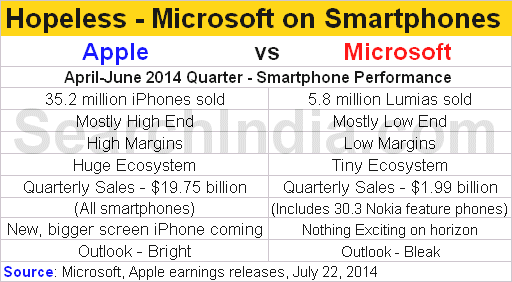 Now the reason Nadella is pulling his pubic hair out – and if he isn't, he should start anon – is that the man has no clue what to do to get people to buy Microsoft's Lumia smartphones.
Quarter after quarter, the public continues to raise its collective middle finger at Microsoft's smartphones.
The smartphone battle is between Apple's iOS platform (iPhones) and Google's Android software (Samsung, LG, Xiaomi, Huawei and dozens of other firms make Android phones).
For its fiscal fourth quarter ended June 30, Microsoft sold a mere 5.8 million Lumia smartphones (mostly low-price point Windows Phone devices with presumably low margins).
During the April-June quarter, Microsoft also sold 30.3 million Nokia feature phones but those are not important because Microsoft is defocusing from the feature phone business given their pathetic margins.
In almost the same period, Apple sold 35.2 million smartphones, mostly high-end iPhone 5S devices with high margins. And that's during Apple's slow June quarter and more so when the public is awaiting the launch of the new large-screen iPhones.
Smartphone Revenues – Apple vs MSFT
Apple's revenues from smartphones in the quarter ended June 28, 2014 was $19.75 billion.
Microsoft's total phone hardware business contributed just $1.99 billion in revenue.
Phone hardware revenues for Microsoft include Lumina smartphones and non-Lumina feature phones from the Nokia Devices and Services acquisition.
Now bear in mind that most Lumias sold in the quarter were at low price-points.
Plus the majority of phones Microsoft sold were dirt-cheap Nokia feature phones in the developing countries like India, Bangladesh, Pakistan and much of Africa.
So I wouldn't be surprised if Microsoft's smartphone revenues in the quarter were less than $500 million.
And if my analysis is accurate, that would be so pitiful for Microsoft!
Beyond Salvage?
If Apple is selling seven times more iPhones than Microsoft's Lumia devices, what should Microsoft do?
But for many, the 64-billion dollar question is: Can Microsoft salvage the horrible situation?
If you ask me, the odds are against Microsoft pulling off a miracle in smartphones!
Microsoft Executive VP Stephen Elop said recently that in the near term Microsoft intends to focus on the "more affordable smartphone segments" a.k.a. low end of the market.
If Microsoft couldn't face the challenge at the high-end from the likes of Apple iPhones and Samsung Galaxy, the company will find it even harder to fend off the low-priced Android phones flooding out of China.
Among the low-end Android devices emerging out of China, there are some like Xiaomi that have built a solid brand image and reputation for devices with powerful specs at low prices.
Forget the sub-$100 smartphones from the 'brand-less' vendors! Microsoft will find it hard even to face down the likes of Xiaomi (btw, Xiaomi just launched in India).
Microsoft will not easily admit defeat but I suspect it will continue to limp along in the smartphone business with each quarter heralding more miserable news.