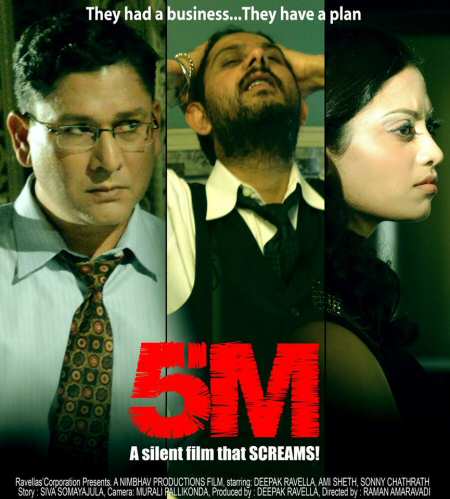 Folks, our friend Sonny Chatrath's new film 5M premieres at Big Cinemas/Movie City in Edison (NJ) on April 20, 2014 at 4PM.
Since you desi cheapos dig free stuff, I'm letting you know right away know that admission to the premiere show of 5M is gratis.
Given that admission is free, there's bound to be a crowd.
So reserve your free ticket early – Free Ticket Link for 5M Premiere
Going by the names of the people involved in the making of 5M, the film seems to have been cobbled together by a group of mostly Telugu biddas.
Starring : Sonny Chatrath, Ami Sheth, Deepak Ravella
Genre : Silent, Drama, Suspense Thriller
Rating : R
Direction: Raman Amaravadi
Synopsis : 5M is a tale of greed, lust, deception and crime in Silent films genre that is bound to take you on one bumpy, yet an exciting ride. Dave has an explosive plan to revive his bankrupt business. When Dave thinks he got away after committing a perfect crime, little does he realize the price he paid for it.
What : 5M Premiere Screening
When : Sunday April 20th at 4.00PM
Where : Big Cinemas/Movie City, 1655 Oak Tree Road, Edison, NJ
4:00 PM – Meet the cast and crew
4:30 PM – Press and Media Release
5:00 PM – 1st Screening, followed by Q & A)
6:00 PM – 2nd Screening (Tentative)
7:00 PM – After Premiere Party (Paid Admission only). TBD/TBA
Screenplay : Deepak Ravella, Raman Amaravadi
Editing : Deepak Ravella, and Raman Amaravadi
Story : Siva Somayajula
Cinematography : Murai Pallikonda
Music : Srikanth Devarajan
Producer : Deepak Ravella