By golly, SI well-wisher and Iselin, NJ travel agent Sonny Chatrath (Sonny is Americanese for Gurpreet Singh) is in the movies.
A Bollywood film, guys.
Not an ad film or documentary.
A full-fledged Bollywood movie (according to an e-mail we got from a Yahoo Groups list). No less.
The movie is 9 Eleven, where Sonny plays a certain Dr.Rahat Khan.
Written and directed by Manan Singh Katohora, the movie is co-produced by Narain Kumar Mathur of Maryland.
We've heard of Maryland but ne'er heard of these Katohora (surely, no relation to Scarlett O'Hara) and Mathur blokes.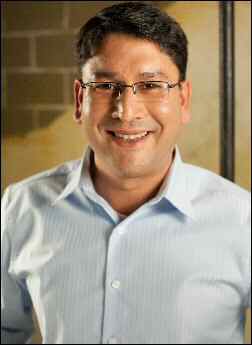 Sonny Chatrath
We hear the shooting for 9 Eleven has been wrapped up and the movie is in the post-production phase now.
Sonny has also got another Hindi film Iraade Maum Ke in the pipeline.
But it's 9 Eleven that Sonny can't stop gushing about:
People must have seen a lot of Bollywood films. But this film everyone must watch. This film has a plot and is very fast-paced. Stuff is happening so fast their head is going to spin. They will enjoy every minute.
OMG, such hyperbole!
Well, we'll know in a few months how exciting the movie turns out to be.
9 Eleven should release later this year.
The Man
Sonny came to the U.S. in 1991 to study finance and earned his working stripes initially as a gofer in a travel agency where his savvy quickly earned him a manager's position.
In 2001, the ambitious Sikh (along with his sister) started air-savings.com in NYC and later moved the travel agency to the Indian hub in Edison/Iselin area of New Jersey.
Apparently, the acting bug bit Sonny many summers ago. It seems he auditioned for some films and was even selected but nothing took off. At least, so Sonny tells us without providing any details.
Sonny, who's already appeared in a bunch of ad films in the U.S., says he's open to doing any feature-film except porn movies.
Why not porn, we ask, of course, innocently.
"You do all these things before you're married,'" explains the father of an adorable little girl.
Asked for his age, Sonny gets a little coy:
Upper 30s. Don't put my exact age because that gives away too much information.
Sonny is a nice bloke, though a little impetuous and given to occasional flashes of irrational exuberance (to use the former Fed Chief Alan Greenspan's famous words).
Bollywood vs Hollywood
Given that he's acted in two Bollywood films now, what then does Sonny think of Bollywood movies?
Most Bollywood films are overrated. They need to keep it close to reality. Hollywood does it. In a Bollywood film, a kiss never looks real.
Well, we certainly agree with the 'overrated' part vis-a-vis Bollywood.
Between the two film domains, Sonny's preferences are for Hollywood 'any day.'
I love Gladiators, I love Saving Private Ryan, I love 300, I love Full Metal Jacket, the action films.
Sonny's Favorites
* Favorite Actor – Aamir Khan for his versatility.
* Favorite Actress – Sonam Kapoor and Katrina Kaif for being sooo cute and un-diva like.
* Favorite Oomph Girl – Mumaith Khan for her item number in Munnabhai MBBS.
Here's wishing Sonny's two upcoming Bollywood movies have a great run and his performance gets noticed.