Is something rotten in the state of Denmark Pennsylvania?
OMG, has Telugu bidda Raghunandan Yandamuri died?
Has he been murdered in prison?
Has he attempted suicide/killed himself?
Or has he pleaded guilty?
Or is he not the real culprit?
Or has a plea deal been stuck for Life in Prison instead of the Death Penalty?
Did Yandamuri seek extra time to prepare for the trial (remember, he's fired his lawyer and is now his own lawyer)?
Is something seriously wrong with the Montgomery County Prosecution team or the Eagleville county jail holding Telugu bidda Raghunandan Yandamuri!
Montgomery County prosecutors have been seeking the death penalty for Raghunandan Yandamuri for allegedly killing baby Saanvi Venna and her grandmother Satyavathi Venna in a botched kidnapping for ransom bid on October 22, 2012.
So Many Questions
Why do I ask so many questions?
Because the Montgomery County Court administration in Pennsylvania has cancelled the trial of Raghunandan Yandamuri!
Folks, the court has not postponed the trial but cancelled it.
After multiple postponements, the trial was scheduled to start on September 15, 2014.
Yandamuri's court docket sheet (below) shows the trial was cancelled yesterday, September 5, 2014 (a mere 10-days before the trial).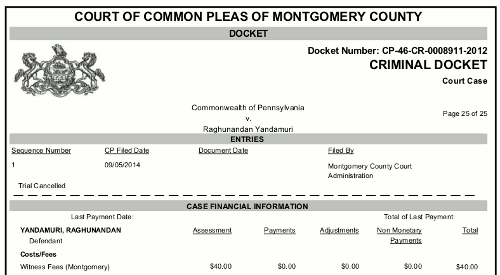 I cannot for the life of me fathom why Yandamuri's trial has been cancelled!
After all, Montgomery County prosecutors couldn't wait for the trial to start.
Second Cancellation
This is the second time Raghunandan Yandamuri's trial has been cancelled.
On April 23, 2014, Montgomery County court authorities cancelled the trial scheduled for May 5, 2014.
Subsequently the trial was rescheduled for September 8 and then postponed by a week to September 15, 2014.
It looks like the trial could now slip into 2015.
So who's to blame for the multiple cancellations and the prolonged delay in the trial start date? Both the Montgomery County Court authorities and the defendant Raghunandan Yandamuri must share responsibility for the delay.
Raghunandan Yandamuri's trial is the most high-profile trial of any Indian in USA. Ever!
Since his arrest on October 26, 2012, Raghunandan Yandamuri has been lodged in the Montgomery County Correctional Facility in Eagleville, PA.
Yandamuri has been charged with Murder of the First Degree, Murder of the Second Degree, Kidnapping, Burglary, Robbery, Theft By Unlawful Taking and Abuse of Corpse.