Another day in Amreeka, another Telugu murderer pleading Not Guilty!
Telugu bidda Timma Raju Kalidindi is playing hardball with prosecutors in Somerset County, New Jersey over the murder of his estranged wife Janaki Dantaluru.
The 48-year-old software programmer who murdered his wife the old-fashioned way – by choking her and using a braided rope – today pleaded Not Guilty in a New Jersey court.
The Telugu whacko Timma Kalidindi was offered a plea deal for 30-years in prison for his crime of First Degree Murder.
It's not clear why Kalidindi did not take the deal.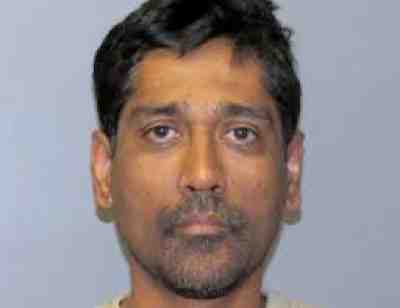 Telugu Whacko Timma Raju Kalidindi – Pleads Not Guilty
Timma Kalidindi strangled his estranged wife Janaki Dantuluru at their Bridgewater home in New Jersey on November 14, 2013.
According to Timma Kalidindi's arrest affidavit, on the evening of the murder he told his teenage daughter that "only one person was going to survive tonight."
Police arrived at the Bridgewater residence after Timma Kalidindi's daughter called 911 after hearing screams from the garage.
Timma Kalidindi's wife Janaki died two days later at the Somerset Medical Center.
According to the arrest affidavit, Kalidindi said he squeezed his wife's neck to stop her screaming.
Who is Timma Kalidindi?
* Timma Raju Kalidindi must be an old-fashioned murderer, having killed his wife not with a knife or gun but with a rope and his bare hands
* Timma Raju Kalidindi and Bollywood superstar Shahrukh Khan were both born in 1965 but Shahrkh Khan uses his hands only for eating
* Timma Raju Kalidindi shares a great sense of humor with other recent Telugu murderers in the U.S. – All of them have pleaded Not Guilty despite overwhelming evidence of their crimes
* Timma Raju Kalidindi is a Telugu native, hailing from the South Indian state of Andhra Pradesh (famous for export of red chillies, tobacco and software programmers)
* Timma Raju Kalidindi likely hails from Kakinada, a city in coastal Andhra Pradesh with a sex ratio of 1,046 to 1,000
* Timma Raju Kalidindi's last name suggests the Telugu bidda belongs to the Kshatriya warrior caste
* Timma Raju Kalidindi was a resident of Bridgewater, New Jersey until he was involuntarily shifted to the Somerset County jail in November 2013
* Timma Raju Kalidindi is said to have been having marital trouble for four months before he choked his wife Janaki Dantaluru (I've been enduring marital problems for nearly 20 years and still use my hands only for blogging) Continue reading »