Chicago Telugu bidda Srinivasa Erramilli has lost his court fight for acquittal and a new trial in the Southwest in-flight sexual groping case.
U.S. District Judge Joan Humphrey Lefkow of the Illinois District Court (Eastern Division) recently rejected Erramilli's petition against the jury verdict that found him guilty of abusive sexual contact of his co-passenger on board a Southwest flight from Las Vegas to Chicago in July 2011.
On December 13, 2012, an Illinois jury convicted Erramilli of sexually groping the inner thigh of a Chicago area woman while they were seated next to each other on the Southwest flight.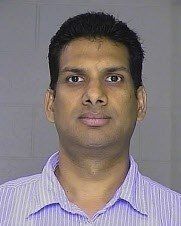 Srinivasa Erramilli
Court Fight
In two court filings on January 31, 2013, Erramilli argued that his conviction was based on inadequate evidence and asked for acquittal and a retrial.
Erramilli also requested that the court vacate the jury's conviction on count II for abusive sexual contact and enter judgment on the lesser included misdemeanor charge of simple assault.
The difference between the two charges is that simple assault omits the intent to cause sexual arousal element. Continue reading »