Get over it!
Not withstanding the anger of millions of Americans over large-scale government spying, there will not be any change.
Not one whit.
Because the beneficiaries from the spying operations will not allow change.
Helpless Americans
America's intelligence operations have been outsourced to private entities like Booz Allen and several hundred other companies.
Whether it's a Democratic administration or a Republican President, the status quo will continue unimpeded.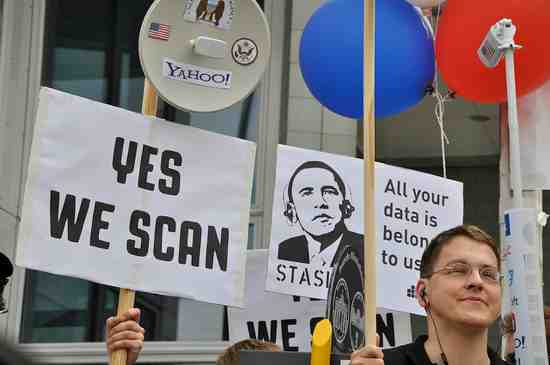 (Picture courtesy: Digitale Gesellschaft)
Having tasted blood (private corporations feast on $56 billion a year in intelligence contracts), these giant private contractors will never allow surveillance operations on Americans and foreigners to be scaled back.
Just like the gun lobby will never allow even the smallest change no matter the repeated incidents of shooting.
Americans can shout, scream, fret, fume, rage and rant but they're impotent, powerless to change the current kakistocracy that is overseen by corporate overlords.
Today, 70% of U.S. government spending on intelligence is distributed to hundreds of private contractors. Continue reading » (more…)