Just when we were resigned to the prospect of drawing a blank yet again in our Odyssean quest for fine Hindi movies, comes along a delightful Bollywood aberration called Taare Zameen Par.
With its offbeat and gripping story supported by fine performances from the key players, Taare Zameen Par is an easy movie to love.
Taare Zameen Par is also Aamir Khan's first shot at directing a movie. Though you wouldn't know that given the outstanding execution.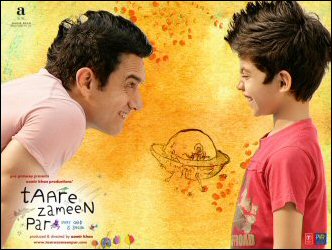 Over the years, we've been forced to temper our enthusiasm about Indian child actors. After all, it's unrealistic to expect Indian kids to display any acting skills when most Bollywood grownups can't act.
But Taare Zameen Par surprises on this count too with an amazing performance by Darsheel Safary as a dyslectic kid.
All kudos to Aamir for drawing out an exemplary performance from the young boy.
Darsheel's performance is on par -maybe a tad better – with what Ayesha Kapoor delivered as the young deaf and blind girl in Sanjay Leela Bhansali's Black.
Yes, Aamir Khan has an important role in the movie but it's the little boy Darsheel's film all the way.
Shunned at school for his low grades, taunted by his classmates and belabored by his father, Ishan Awasthi (Darsheel Safary) turns into an intractable problem for his parents who pack him off to a boarding school hoping it'll insill some discipline in him.
But things get only worse at the new school for the young boy, who completely withdraws into a shell.
Ishan is a problem at the new school too, that is, until a former dyslectic and temporary arts teacher Ram Shankar Nikumbh (Aamir Khan) awakens the school and Ishan's parents to the boy's condition.
Sure, Taare Zameen Par is not in the same league as Rain Man, the Dustin Hoffman-Tom Cruise movie about an autistic man.
But Taare Zameen Par is light years ahead of your average Bollywood flick that invariably has us in a curdling mix of nausea and rage at the end.
If we have any gripes at all about Taare Zameen Par, it's in the sheer number of songs.
Taare Zameen Par proves that when it comes to quality Hindi movies, Aamir Khan is ahead not just of the other Khans – Shahrukh Khan and Salman Khan – but also the likes of Hrithik Roshan and Akshay Kumar.
By golly, our Bollywood bozos have accomplished the near impossible – they have delivered a top notch Hindi movie in Taare Zameen Par.