Hey, no one ever accused our desis of overpopulating the Mensa cadre.
So, is it a big surprise that the desi schmucks in the U.S., many of whom wouldn't be able to tell the difference between class and crass if their lives depended on it, decided that Christmas is the season to feast, alas, not on fruit-cake but on dung.
In large numbers did desis turn out at the Bollywood trough to gorge on this dung called 3 Idiots sending its opening weekend gross into the stratosphere and surely forcing the likes of Shahrukh Khan, Akshay Kumar and that Paa-thetic Bachchan to gnash their teeth and turn green with envy.
As for us, we turned to Monkey Bay 2008 Sauvignon Blanc to drown our dismay.
Aamir Khan's latest crap show 3 Idiots has grossed $2.1 million for the five-day Christmas weekend at the U.S. box office (caveat: the numbers for 3 Idiots are estimates).
If that's not a record for a Bollywood film in the U.S. (albeit for garbage of the worst kind), pray tell us what is.
Here's how the piece of trash fared compared to other Bollywood movies: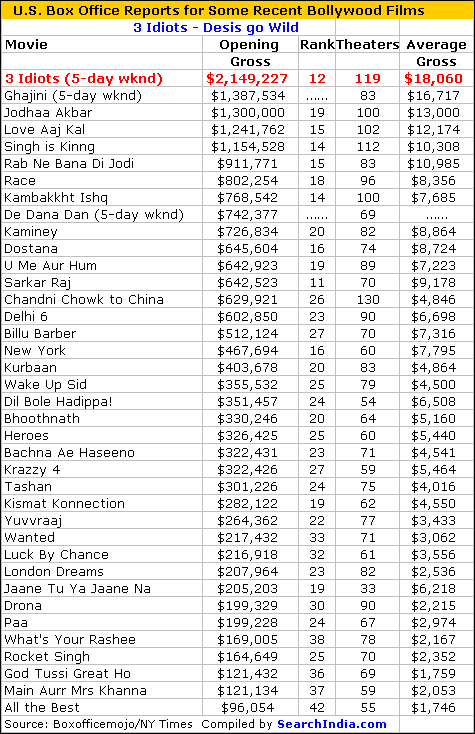 Related Stories:
SRK, Akshay, Hrithik, Salman Peeing in Their Undies
3 Idiots Review – Total Garbage
Five Point Someone Review – Mediocre Shit