Folks, if there's one Bollywood star whose movies unfailingly guarantee disaster lately at the U.S. box office, it's Salman Khan.
The hopeless actor is the kiss of death at the box office, a nightmare for the audience and misery for the Bollywood producers and distributors.
Over the last few years, Salman Khan has amassed a dubious record vis-a-vis his Bollywood peers like Akshay Kumar, Shahrukh Khan, Aamir Khan, Hrithik Roshan et al.
You see, Salman Khan's leading peers have left this fading star far behind in the high-stakes Bollywood entertainment arena.
Salman Khan's poor U.S. box office numbers makes it clear that he's the least loved among the major Indian stars by the audience here.
Hey, even Bollywood bachchas (kids) like Shahid Kapoor, Ranbir Kapoor and Abhishek Bachchan are way ahead of Salman Khan. Now, isn't that a mighty shame?
Criminal Khan
Salman Khan is also a criminal, having been convicted by an Indian court for poaching.
Salman also has another criminal case involving an alleged hit-and-run in which one man died and four were injured pending against him. And this whacko ran away from the scene of the deadly accident.
Think we're exaggerating Salman Khan's failures? No, we ain't.
Look at the U.S. box office numbers for Salman Khan vs that of other Bollwood stars for some recent Hindi films and you see the tragedy that Salman Khan has inflicted on the industry: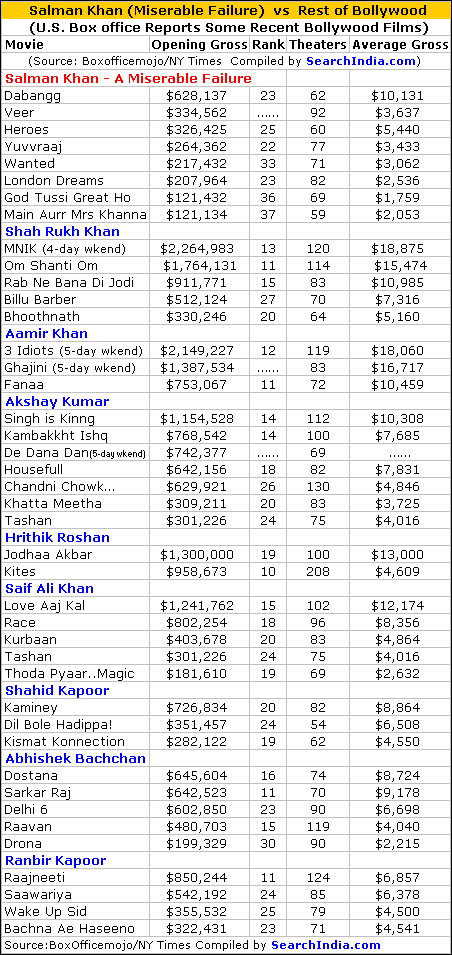 Salman Khan is invariably at the bottom of the pile.
No surprise here, eh.
If Salman Khan had any shame, he'd quit the business or improve his acting skills/pick better directors before his stock plunges any further.
How long before Darsheel Safary overtakes Salman 'Flop' Khan in the Bollywood rat-race?