Amma thaye, indha picture-karan Vijayuku pitchai podunga (please give alms to this movie fella Vijay).
Ha ha ha.
We knew it, folks. Just knew it.
We turned our back on this movie because we sensed all along that it was a piece of junk that few cared about. Chronicle of a disaster foretold, eh.
At the U.K. box office, Vettaikkaran has brought nothing but shame to Vijay in the opening weekend.
Oh well, for a clown who gave us crappy movies like Villu and Kuruvi shame is surely an old companion.
Folks, Vettaikkaran has fared worse than recent Tamil movies like Kanthaswamy (Vikram) and Aadhavan (Surya).
By the way, Vettaikkaran has achieved the impossible feat – it has done so much worse than even that abomination Kuruvi.
No kidding, 44% less than Kuruvi. Now, that's straight out of Ripley's Believe It or Not.
For the December 18-20, 2009 opening weekend at the U.K. box ofice, Vettaikaran brought in a piffling £43,608 from 12 theaters. The film came in at No-14 and had an average gross of £3,634.
Here, take a look at how badly Vettaikkaran has fared at the U.K. box office vis-a-vis a few prominent Tamil movies: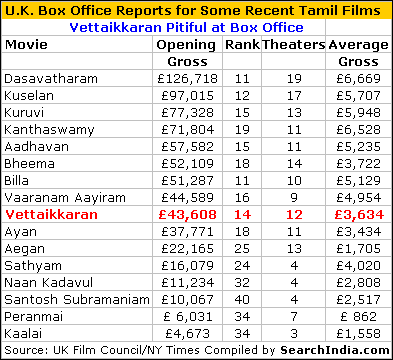 Related Stories:
Sura Review – Colossus of Nonsense
Vettaikaran Review – Punnaku Pandi & the Dysentery Before Sura
Thirupaachi Review – Punnaku Pandi and the Capture of Bin Laden
Madurey Review – Punnaku Pandi and the 'Negro Problem'
Sivakasi Review – Punnaku Pandi and the art of Nonsense
Kuruvi Review – Nonstop Nonsense
Villu Review – Revoltingly Bad