Aayirathil Oruvan Review – Sin Not to Watch it
Say, we have two doubts.
Help us, will ya. Please.
1. What is it that Reema Sen has that Vijay lacks?

That is other than the obvious assets. 😉

2. And do you think Karthi's is bigger than Vijay's?

Hey, we mean the size of the screen appeal. Not what you nasty creepos think. 😉
Folks, in a country where directors usually count for little and stars are all, how do you account for Aayirathil Oruvan's decent opening weekend performance at the box office (UK, that is) considering Karthi and Reema Sen are lesser lights compared to Vijay.
Maybe, Aayirathil Oruvan is an exception where the director (Selvaraghavan, in this instance) mattered too.
Whether Aayirathil Oruvan is good, bad or ugly we don't know since we have yet to watch it.
But what we do know for sure is that Aayirathil Oruvan has done better than Vijay's Vettaikaran on the Average Gross basis in the opening weekend at the U.K. box office.
Look at the below table and the numbers speak for themselves: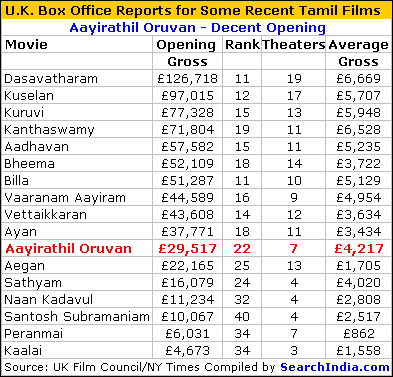 Related Stories:
Aayirathil Oruvan Review – Sin Not to Watch it