(For SI blog readers Mallukuttan, Shadowfax_Arbit, Gandhiji et al)
Ever since we watched Oscar winner Jeff Bridges' old comedy The Big Lebowski, we've been dying to try out the White Russian.
If you remember the movie, that's The Dude's favorite drink.
As a matter of fact, White Russian's popularity in recent years owes to The Big Lebowski.
There are differing opinions on the origins of the White Russian.
On Wiki, there's some talk that White Russian's origins may date back to the end of World War I while others see references to it in the mid-1950s.
Like all things old, the White Russian's origins too remain shrouded in the mists of history.
This evening, our White Russian urge got so high that we perforce had to capitulate before Bacchus.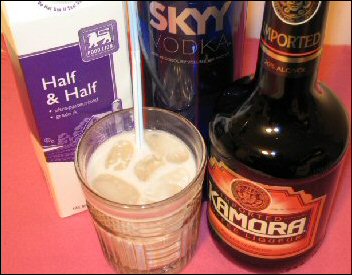 White Russian – The Dude was Right
We already had Skyy Vodka in our liquor cabinet.
So all we needed was Coffee Liqueur and some cream.
Off we dashed to our Gujju liquor store and headed for the liqueur aisle. There was Kahlua, Starbucks and a bunch of other coffee liqueurs on the shelves including the Mexican import Kamora.
We picked Kamora because it had 20% alcohol while Kahlua had only 17% alcohol content. Plus, at $10.99 Kamora was $7 cheaper.
And you do know the only thing desis in the U.S. love more than a blonde p*ssy is a cheaper price-tag, right? 😉
As we were getting back, we made a quick detour to the grocery store to pick up Half & Half (cream).
Soon we were home and got started on our White Russian trip.
Hey, if it's good for The Dude, it ought to be good enough for us. That was our thought.
We took out a clean glass, pulled out the ice tray and added four cubes of ice to the glass.
Next, using a measuring spoon we added about 2.2 oz of Skyy Vodka, followed by 1.8 oz of Kamora Coffee Liqueur. We stirred it a few times and the mixture in the glass now looked like black coffee. Hmmm.
Now we opened the Half & Half cream carton and added it to the mixture until our glass was 90% full.
We then took a straw and stirred the mixture a few times. The blackish-brown color quickly turned off-white.
The whole process didn't take long at all, right.
We took a sip of our first White Russian!
So you want to know how our White Russian cocktail tastes.
Well, schmucks – if there's a heaven this is it. This is it.
Simply tabulicious. A million times better than our daily Gin+ Club Soda staple.
If we were to describe the taste of the White Russian, we'd say think of it as a less cloying, more potent version of Bailey's.
Importantly, the Vodka flavor was not lost in the concoction in our glass. Neither the Coffee Liqueur nor the Half and Half cream could smother the Vodka taste.
Dude, we could drink glasses of the White Russian and never tire of it.
Since we were also feeling hungry, we heated up some Honey Teriyaki noodles (from Simply Asia) that was on closeout sale ($1.49) at our grocery store.
Boy, as we slowly sipped the White Russian we told ourselves:  Man, The Dude sure has good taste.
SearchIndia.com strongly recommends the White Russian to all ye schmucks out there.
Since restraint has never been our forte, in a little while, as we descend from our pleasant high, we intend to make ourselves another glass of White Russian.;)
But we'd certainly counsel moderation to you kids.