Important Note: We've updated the Sura box office numbers to reflect the higher figures reported by New York Times.
First, it was Vijay who spat on Tamil fans with his crap-show Sura.
Then, it was the turn of movie critics who spat on the trashy film.
Now, moviegoers have joined the critics in spitting on Vijay's latest crapshow Sura.
Depressing Numbers
The UK box office numbers for Sura are out.
And if we were Vijay, we'd be heading to the Cooum to drown ourselves.
For the April 30-May 2 opening weekend, Sura's total gross was £50,537  while the average gross amounted to £7, 219 (Source: New York Times).
That's a few thousand pounds more than Vijay's previous movie Vettaikaran.
Here's how Sura has fared at the UK box office compared to a few prominent Tamil films: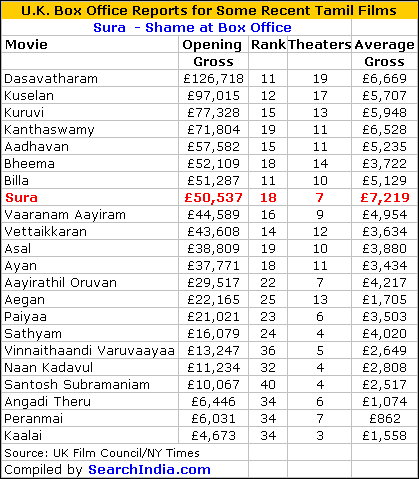 Related Stories:
Movie Critics Spit on Vijay's Sura
Sura Review – Colossus of Nonsense
Vettaikaran Review – Punnaku Pandi & the Dysentery Before Sura
Thirupaachi Review – Punnaku Pandi and the Capture of Bin Laden
Madurey Review – Punnaku Pandi and the 'Negro Problem'
Sivakasi Review – Punnaku Pandi and the art of Nonsense
Kuruvi Review – Nonstop Nonsense
Villu Review – Revoltingly Bad